These are my favorite boots. Or at least they have been for a long time, but they are now literally falling apart! Add the fact that little chunks of the faux leather type exterior fall off every time I put them on to my recent drooling over awesome shoes (see previous post), and I decided to head to the fancy schmancy mall in Orlando to try on totally overpriced stuff I can't afford.
I started out here:
At the top of the escalator, my bellydancer gene kicked in, and I was instantly drawn to shiny things!
This slip is by Free People, and is something like a billion dollars. (Okay, i think $78.) It's kind of an awkward length- too short to wear as a dress (for me, at least!), but too long to be a shirt due to how stiff it is. It did kind of make me feel like a Vegas showgirl, though, so lots of points for being fun!
I almost didn't try on the second one, but I'm glad I did!
I reeeally wish I'd gotten a better picture of this one, because I LOVED it! It had fewer sequins than the first, so it wasn't as stiff, very light. And I never wear gold or white (this is white material with gold sequins), but somehow these colors looked so good on me!
So, shopping lesson #1- don't wear a bright red bra when you are going to try on a bunch of clothes! But besides the $$$, I couldn't get this because I don't have a bra that would work with it. Given that my cup runneth over, I can almost never find strapless bras that actually work, and wearing one with straps with this kinda kills it. Plus the bra would obviously need to be a nude color, since we see how bright colors work out above!
Close-up of the fabric over jeans
They're both made by
Free People
, btw, which might be my new favorite clothing brand. I tried on a ton of their stuff! And this slip comes in all kinds of colors- I totally want the silver, too!
They do all kinds of layering pieces. LOVE!
I looove this sheer ballerina slip! I would never have the body to pull it off, though!
Next stop, Anthropologie!
I could LIVE in Anthropologie. It's one of my favorite stores ever! I totally fell in love with this top:
Sadly it is $98, so I'm going to have to wait till it hits ebay, or win the lottery!
I also love this shirt from Anthropologie, but didn't see it in the store:
My final stop was Macys, where I through I would just pop in, but ended up with a ginormous pile of stuff in the dressing room!
I made a total dork of myself stopping upstairs to take pictures of the awesome white butterfly display hanging from the ceiling:
(At least I think it was Macy's with the butterflies! It may have been Neiman Marcus. But all the following clothes are def. Macy's!)

Another one I fell seriously in love with, this top from Guess! It's such a flattering shape, and the leather accent is amazing! This is what the back looks like: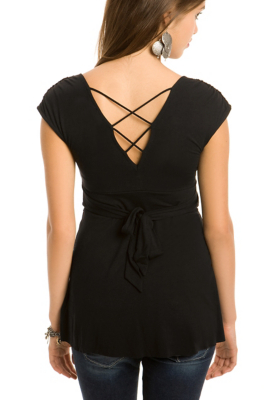 I am seriously considering going back to get this. It is $54, but Macys is having a wear red sale where you can get 20% off if you wear red, so that drops it down to... well, still more than I should be spending. But man is it tempting!!
I just have to point out one more thing: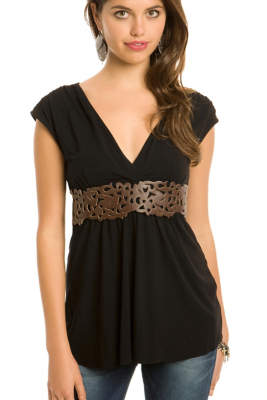 How awesome is it that the shirt looks
better on me than on the model
?? In what alternate universe does THAT ever happen? Hello, ego boost! YAY for boobs!
When I picked up this shirt, I also decided to try the jacket/wrap thing that was on display with it, even though it isn't my usual style: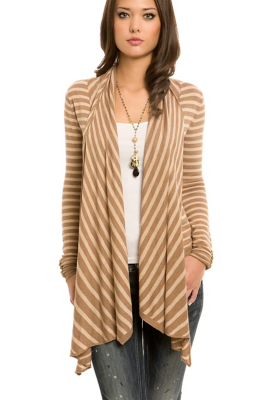 Ok, so this one does look better on the model, but I loooove it! It's not quite a sweater, because it doesn't close, more like a wrap with arms? Or if a sweater and a big scarf had a love child. ($79 from Guess)
This one is by Weston Wear, but I haven't been able to find it online! Hard to see in this dark dressing room pic, but there is a seriously fun ruffle thing on the shoulder!
Pardon the bra, again. This top is by Jaloux, and again I can't find it online! I really considered this one, it's my favorite shape for a shirt, and it's sheer in places and solid in others, so you get little peeks of skin here and there without showing too much (except I kind of am here, sorry!).
One more top by Free People:
If it were longer, I probably would have liked it! I'm 5'11, so a lot of shirts tend to be too short on me. Too short + voluminous fabric = hello, 20 extra lbs!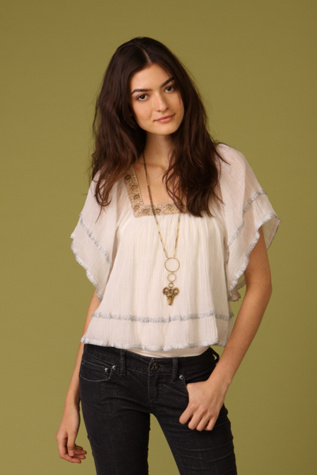 I have no idea who these last two are made by, sadness!
I didn't buy anything, and actually left kind of bummed because I couldn't bring anything with me!
Do you like trying clothes on just for fun, even when you know you are broke, or does it just depress you?