Since the wait for my e.l.f. order to arrive is driving me nuts (patience is NOT my thing!), I decided to pick up a couple of cheap items on my recent Wal-Mart run, to amuse myself until my big bag-o-goodies arrives. I picked up four nail colors, all of which were about $1. I almost never paint my fingernails, but since I pretty much live in flip-flops, cute toenails are a must. I was kind enough to spare you pics of my toes, though, and tested these on my fingers to review!
First up are two colors from N.Y.C., a teal color called East Village from their New York Minute line, and a deep purple called Purple Pizzazz Frost from the Long-Wearing Nail Enamel line.
This is after one coat. The one on the left went on smoothly, but the purple is reeeeally streaky. (Not sure how well you can see it in this pic).
It took three coats to build up a nice deep color. The teal is still smooth, the purple still goopy and streaky.
I seem to have missed a two coat picture of both colors, but this shows that even after two coats, the teal is still quite a bit lighter than the bottle shade.
I couldn't resist adorning the purple nail with a red glitter heart from my other cheap score, Love My Nails in "Crazy for You"
I found this pic
this photostream
on Flickr, since I'm way too lazy to snap another pic of the bottle. I love the hearts on the black nail, will have to try that! This one was about a dollar, too. It's basically a clear polish with chunky heart glitter. The only downside is that you really have to individually place each heart, because if you just dip the brush in and sweep it on normally, you won't have any hearts on it most of the time.
I also tried covering the purple's streakyness with a glitter polish! I love putting glitter nail polish on my toes, because it stays on FOREVER. Pictured here is N.Y.C. Long wearing nail enamel in Starry Silver Glitter.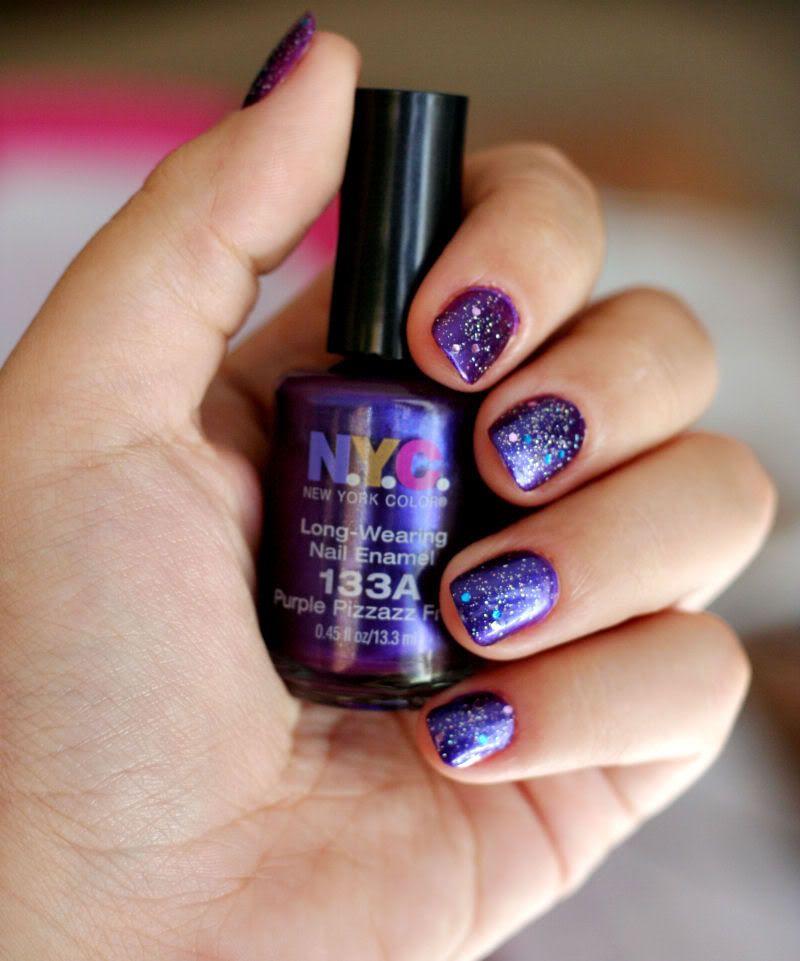 I found this pic on the super cute blog
The Beauty Bargainista
. Cute that someone else combined the exact same colors I did!
This is the same glitter polish over a deep navy, from beauty blogger
Lazy Beautiful
. I love this!
It's actually pretty cute over white, too:
I would totally buy another color from the New York Minute line, but probably not the Long-Wearing, unless it was another glitter polish. The jury is out on the Love My Nails, since the giant heart gliter is kind of anormal.