(I humbly apologize for any weird font and image size issues in this post, but after about an hour of fighting with it, I gave up! I'm not sure where it went wrong!)




I finally got my second e.l.f. order! YAY! I placed my order on Oct. 30th, while their 50% off eye makeup sale was going on. The last time I ordered, it shipped out the next day, but this time it didn't ship till the 4th, and FedEx doesn't show it actually going out till the 5th. It finally made it from PA to NJ on the 10th, and to my house in Missouri on the 12th. Yeeeah. I really wish e.l.f. would use ANY OTHER shipping but what they use, because it is unbelievably sloooow!
Once again, I'll be reviewing everything for you, with swatches photographed where I can! I'm going to save the Brightening Eye Color quads for later, because I want more time to play around with them before I report back. I think I ordered 14 of them, so I'll probably post about a few at a time with reviews, swatches and looks. This post will cover everything else, though!
The price I list next to each item is the retail price, not the sale price that I paid.

Liquid Eyeshadow in Sultry Satin- $1
You may remember the liquid eyeshadow from my last review, because I was kind of obsessed with finding a way to make it work. This is such a cool product in theory! It goes on as a liquid, but dries within a few seconds to a very stay-put solid! If I could just get it to work, I think it would be the perfect eyeshadow for going out, because once it's on, it isn't going to smudge or run or do anything but shimmer! However, while it's awesome in theory, it loses a lot in execution!
I tried the pink color of liquid eyeshadow last time, and wanted to try out another variety to see what I could do with it. I'm a little disappointed that this isn't actually the color that is shown on the website-- products that aren't true to color is probably the biggest problem with e.l.f. This color is shown as a champagne/ivory color, but is more of a peach:
On the left is plain, on the right is on top of e.l.f. eye primer, which we'll get to soon! I'm not sure how well you can tell from the photo, but it looks much nicer on the primer, and feels a lot smoother!
The last time I bought a tube of this, it had big air bubbles and was therefore not totally full, but this one doesn't have that problem.
The major plus of this product is that once it dries, it isn't going ANYWHERE until you take it off. It feels almost like paint once it's dry, which is a little uncomfortable on your lid, but handy if you need something that won't budge. The texture and formula make it hard to blend, almost impossible really, but you can layer it upon itself for thicker coverage if you allow it time to dry thoroughly between coats.
I noticed when I swatched this on my thumb that it makes every tiny line in my skin visible, so I would stay FAR away from this if you have eye wrinkles, unless you want to seriously magnify them!

I tried applying eyeliner over this once it dried on my thumb- the new black shimmery liner pencil didn't work very well on top, but the liquid liner pen glided on flawlessly (And the coffee color looks really pretty on top of this)
The problem comes when you try actually putting it on your eye. I originally thought it might make a nice shimmery highlight color, but this is what happens when you try to apply it smoothly to the top part of your eye (this is with primer, too):
Yeeeeah, that's not gonna work. I also tried it on the lid with a dark brown on the crease:
You can see here how it ALMOST works. It could ALMOST be awesome. But the weird texture won't let another eyeshadow stick on top, so the crease color ends up looking horrible. It also does a weird puckering thing when it dries that makes my eyelid look super wrinkly. I'm 28, my eyelids are smooth like baby butts!
The texture makes it feel almost like you painted your eyelid with nail polish, but a wet cotton ball took this off instantly. It's such a WEIRD product, I'm still kind of nuts over the potential that just doesn't quite work!
If you have this and have found a way to actually make it work, please tell me!
Shimmer Eyeliner Pencils in Iconic Ivory, Twinkle Teal and Black Bandit-$1 each


These are new and come in so many pretty colors that I'm wishing I had bought a few more!

Unilke some eyeliners that get hard and dry and thus hard to apply, this is super smooth and creamy, and glides on. It's almost too soft, so you need to keep a light hand with application. There is a little bit of glitter in it, but it isn't overhwlming- I would say the swatch pictures from the website are actually pretty accurate. The teal they show matches the color I got well, so I would guess the other colors of this liner might be true to color as well. Yay!
The sharpener built into the lid is pretty snazzy, but I did run into a small problem with it- I tend to stick the cap on the other end of the pencil when I'm using this, but doing this makes the sharpener dig in to that end, leaving little cuts.
The ivory doesn't have a ton of pigment, but it does brighten the eye a little and if you scribble a little on your browbone it makes a nice highlight. I tried it on my water line, but it wouldn't go on at all.
The teal is perfection. It's a gorgeous color, perfect if you want to play with bright colors without having a ton on. It's beautiful when paired with the pale green from the Ivy eyeshadow quad!
I still need to try these on my lower lash line, and maybe over the entire lid!
I feel kind of dumb that I didn't realize that the liquid eyeliners came in some seriously awesome colors, or I would have ordered some of those, too!
Studio Cream Eyeliner in black, midnight, purple and ivory- $3
Oh elf, why must you tease me? I was so excited about these four, but I only got three. The purple was out of stock. Huge bummer!
The black is perfect. One swipe with the brush gives you a rich, smooth black line. LOVE it. It even glides onto my water line. The ivory is also really pretty. The midnight gave me problems:
I tried digging the brush around in the pot a bit, getting some liner that wasn't right up on the sufrace and really loading my brush up. That gave me *slightly* better results, but it still wasn't the pretty navy color I expected from the pic on the website:
I find it so weird that the black and ivory can be so awesome, and the midnight a total waste. I wish I had the purple to compare, too!
For size comparison. The top left photo is with the lid on, on the right is with the lid off, and the bottom left is upside down.
The brush is pretty good! I was worried at first that it wasn't stiff enough, but once you get some product on it, it isn't bad. I might still use one of my other liner brushes, though. Way better than the brush that comes with Jane's cream liners, though!
Once these dry, they stay put! I tried rubbing the samples I put on my hand pretty vigorously, but they didn't smudge at all! AWESOME. I am so sad I don't have the purple one!
While I'm on the topic, I have to say I'm not a fan of e.l.f.'s policy for out of stock items. According to the paper that comes with the package, any out of stock items are just deducted from your credit card charge. In my opinion, that kind of sucks. I don't put orders in very often, so it will likely be several months before I get a chance to order this liner again. Additionally, by ordering it now I was getting it at 50% off, which I doubt I will next time. I think the proper procedure would be to either ship the out of stock item to you as soon as it is in stock, or give you a coupon code to get it free with your next purchase in addition to refunding what you paid this time. Just plain refunding it isn't enough for me.
Waterproof Eyeliner Pen in Coffee & Plum- $1
I got the black eyeliner pen last time and I use it all the time, so I thought I would try out a couple more colors. At 50 cents each, how can you go wrong?
Amazingly, you can! The coffee color is perfect- a great medium brown for those days you don't want a full-on black eye makeup look. I'm just as pleased with it as I was with the black one I got last time.
The plum, on the other hand, was totally dried out and won't work. I even tried getting it wet- no luck. What's with my bad luck with purple liners this order? I'll be contacting e.l.f. to get this replaced or refunded asap. Yes, it is only 50 cents, but what I have seen from the reviews I've read on their site, because of the low prices almost nobody seems to contact them about damaged products, and I think they need to be held accountable. I get that a dud is bound to pop up here and there with any product, especially one so cheap, but it's a little more annoying than usual when you can't just take it back to the store to exchange it. I'll report back about how
they handle it!
Here's the brown, and if you can squint you can almost make out my attempt to get the plum to show up beneath it:
One tiny thing I would change about the packaging on these- all of the colors come in a plain black tube. It makes grabbing the one you want a little hard, since you only have the stickers on the end to tell them apart:
All over Cover stick in Pink Lemonade-$1
Even though this can be used on your lips and cheeks, too, it was 50% off since it is listed under eyeshadows. YAY.
This was quite a bit darker than I expected:

I tried it on my lips first. It's a nicely pigmented pink on the lips, but a little too frosted for me. Lovely with some gloss over it, though! (see next item!) It was ok on my eyes- it wouldn't be my first choice for an eye color, but it would totally work as a lid color if I didn't have anything else with me, and it isn't totally obvious that it's the same color on your lips- it doesn't look super matchy-matchy. I do find it a little icky to put something on my eye that has just been all over my lips, but I can deal. ;) Surprisingly, my favorite use for it was as blush! I dotted a little on my cheekbone and it blended really nicely! A nice healthy glow.
Overall, not one of my every day go-to products, but useful and a good buy for $1! (Or 50 cents in my case!) I would like to try one of the other colors, they would be fun to experiment with.
Super Glossy Lip Shine in Goddess- $1
Even though lip products weren't 50% off, I couldn't resist picking up another lip gloss. The one I got with my last order (Mauve Luxe) is probably my most-used e.l.f. product, so I needed another, stat! This one was a little thinner consistancy than my last, which made me happy because the other was a little too thick and goopy. This one is excellent! These glosses are one of my favorite e.l.f. products! They have a yummy scent, plenty of color and an SPF. Big thumbs-up for this!
My ONLY suggestion on this is that there's too much packaging. It would be so easy for e.l.f. to trim down the size a bit and save some $ on packaging, plus some trees. Here's what the package looks like-
And here's my badly photoshopped version of what it could look like:
Just as eye-catching, but 2/3 the size! It's a really minor complaint, but when I see how full my trash can is after opening all of my new products, I can't help but wonder if they could cut down the waste at least a little.
Tinted Mosturizer in Ivory- $1
Another product I actually paid full price for. Oooh, big spender! I haven't had a ton of experience with this yet, but from what I can tell it provides really sheer coverage, pretty much what you would expect from a tinted mositurizer. The tube is pretty small- about the size of the lip glosses, so I'm guessing it won't last long. It would be great to toss into your bag for vacation, though, especially since it has an SPF! E.l.f. actually came out with a foundation a few days after I placed my order, so I'm excited to try that next!


Eyelid Primer-$1
I've been using this under the products I've tried out so far, and so far so good. I need to try it under some of my makeup that I'm used to for a better opinion. One thing I've discovered so far is that it is much easier to apply some primer to your fingertip and apply it to your lid from there, rather than directly from the applicator to the lid. It feels really thin and sort of greasy going on, but dries to a powdery finish. It does take about a minute to dry, so be sure to allow enough time before you put anything on top!
I tried to take a picture, but the differences in shadow applied on the primer and on bare skin didn't show up well enough in the photo. There is a visible difference, though.

Dramatic Length False Eyelashes-Limited Edition- $3
How cute are these? With the 50% off eye stuff sale, I couldn't resist. They also come in light blue and pink! I'm guessing I'll have to trim them (width wise, not length) to make them wearable, but I think they're fun!
My pair arrived slightly messed up- one feather was out of place: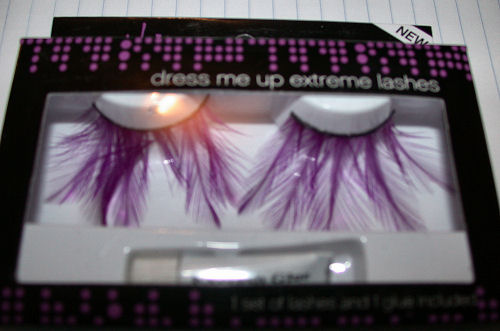 Kind of hard to see here, but the middle feather on the left one is kind of flipped backwards. I was able to fix it, though, and hopefully it will stay put!

Shimmering Facial Whip in Toasted (except ha ha, not!) - Free Gift


WHYYYYYYYYYYYYYYYYYYYYYYYYYYYY? I already have 2 of these in different colors, and they are one of my LEAST favorite e.l.f. products! Couldn't I have had ANYTHING else as my free gift? It was listed on my order confirmation as Toasted, but to make me cringe just a bit more, they sent Citrus instead, which I already had because they sent it as the free gift with my last order, too! Maybe I'll do a giveaway for it or something? I know from the reviews that a lot of people love these, I'm just not one of those people.
The kind of silly thing is that the whole idea of a free gift SHOULD be to introduce your customer to a product that they haven't tried yet to hopefully get them hooked on it. The perfect thing for me would have been one of their lipsticks, since I haven't tried those at all. Actually taking the time to look at a customer's history and pick a gift that suits them would be a REALLY smart business practice. At least taking the time to ensure you don't send them the exact same free gift as last time when you have thousands of items to chose from would at least be a really nice start!
So, some highs and lows with this order! I'm thrilled with the black & ivory cream liners, the sparkly eyeliners, my new lip gloss and the coffee colored liquid liner pen. Totally disappointed by the dried out purple liner pen and the purple cream liner being out of stock! Sad about the wated potential of the liquid eyeshadow (again!). Can't wait to start playing with all of the shadow quads and report back on those!