You know what I really miss about being a kid? Spending weeks (maybe months) before Christmas compiling everything you could possibly hope or dream for onto a Christmas list for Santa. Since my birthday is exactly two weeks before Christmas, December is the ONE time of year that I ever got stuff, unlike those lucky kids with summer birthdays who had two nice evenly spaced holidays to divide their desires between. I only had one shot, so this was serious business. (Not as bad as my oldest sister, with the December 24th birthday had it, though. Poor kid.)
Anyway, I kind of miss the fun of compiling a good old fashioned Christmas list, so here is a quick (or not so quick, depending on how carried away I get) run down of the things I would like to find under my Christmas tree this year. (BTW, does anyone have any suggestions on how to secure a tree and ornaments when you have FIVE curious cats?)
Benefit Cosmetics Big Beautiful Eyes
Oh, Santa, this isn't even a "want", it is a flat-out NEED. Benefit makes the best eye shadow kit in the history of EVER, and I have gone through two of them. I have been down to just the dark brown in my more recent one for like a YEAR now, and I need a new one to be pretty! Do you know how long I have been single, Santa, or how many cats I am acquiring? Show a girl some love. That concealer is my only hope if this whole waking up after 3 hours of sleep all the time thing is going to continue.
This is the ONLY U2 DVD I don't have yet. And that is really dumb because Vertigo-era Edge is one of my favorites. Plus it was mostly filmed on Bono's birthday, so that's an automatic win. I've been waiting to get it so I can afford the deluxe version. I don't totally know what the difference is, but I think it is pretty obvious that 2 discs of U2 are always better than one!!
Ann Demeulemeester Fall 2008 triple lace boots. These are my holy grail.
As an alternative, I will accept these Pied Piper boots from Anthropologie: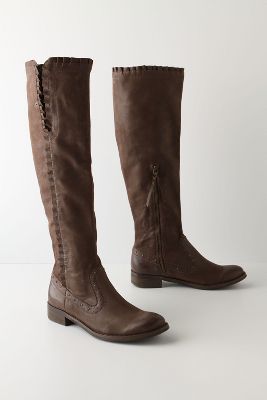 They are only $298, as opposed to the $1500-ish you would pay for the Ann boots on ebay. A steal! Look at the little ruffle and the studs and all the details! LOVE.
I entered a giveaway to win free socks from this company, but I did not win, and now I am sad. I really wanted these socks! I just discovered that
Annie's Home
is doing a giveaway for two pairs of them, too, though! Maybe I will have better luck!
This shirt from Guess that I tried on back in February! Every time I manage to find it on eBay, it is still like $40. I am so in love with it, though!!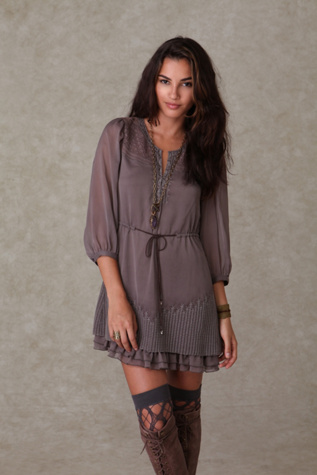 This is already quite long, so I'm going to break it off here and come back soon with Part 2! Apparently I am a girl of many wishes!