I posted about some candles from the
adult store
Eden Fantasys a couple of weeks ago, but since then I've spent way too much time checking out lingerie on their site and amassing a giant wish list. The kind of cool thing is that if you register at their site, they have a points program that give you points for things like searching and adding stuff to your wish list, so by the time you are ready to buy something, you're sure to have enough points for at least a dollar or two off. Due to my aforementioned way too much time browsing, I have like $12. For real.
Anyway, I am trying to decide between two super cute lingerie options to treat myself for the new year. This is #1: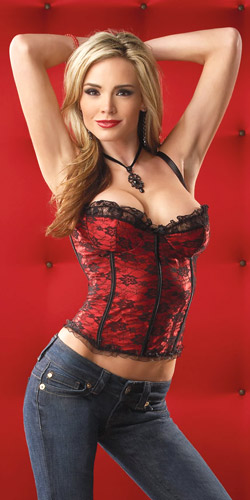 It is $57.99, which is more than I would normally spend on something like this, but I am kind of in love. You guys, I think I would seriously wear this out, like as a shirt. Not to the grocery store or anything, but definitely to a concert. Especially if I could find a cute jacket-type thing to wear over it. It holds in my stomach AND makes my boobs look awesome? Don't mind if I do!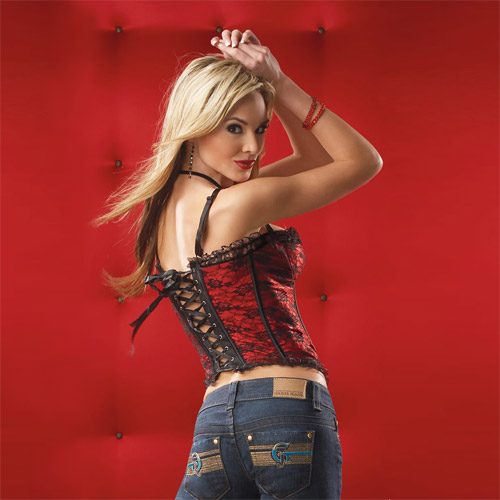 See, the model is wearing it with jeans. She is totally on her way to Target.
This is option #2:
One thing I love about the Eden Fantasys site is that they show a lot of the lingerie in more than one size. Even though the girl on the right (If Blogger actually formats this right for a change, otherwise the 2nd girl) is far from being "plus-size", I still appreciate the variety in body types!
This one has less potential for double duty as a regular shirt, but it looks so cute and comfy! Plus it comes with a matching ruffled pinstripe panty, and the two piece set is only $38.99.
You see why this is a hard decision? Which would you pick? And would anyone be interested in a giveaway for a gift card to Eden Fantasys soon?