I've only been on one cruise, back in 2000 (which was also my first Disney World trip), and I've been dreaming of going again ever since. Now that I work for The Mouse, I can actually get Disney cruises freakishly cheap, but since I usually can't even afford food, I haven't been able to swing it yet.
Still, I'm awfully excited about the two new ships in the works! They have started construction on the Dream, and the pictures have me all excited!
The funnel is almost finished! They build the ship in chunks and then, I don't know, superglue em all together or something.
The finished product will look like this:
And the lobby is preeeeeetty!
I love that there is mini golf on the sports deck!
The plans for the Royal Palace restaurant:
Again, preeeetty!
And they're bringing back the Animator's Palate restaurant, a favorite on the Disney Magic & Wonder ships:
(Now with 20% more turtle!)
My favorite concept art so far is the Enchanted Garden restaurant:
Day
And night
Wouldn't it be a great place for afternoon tea? And I totally see a Pixie Hollow fairy character meal here!
And of course, the most important part of any Disney experience, the bars!! Bring on the booze!
"Pink"
"Evolution"
Finally, I think the very coolest thing is the virtual porthole on inside rooms! Inside rooms (ie no window or balcony) kinda suck because you have no window to the outside world, no way to know if it's light or dark or rainy or lovely outside, no way to know if you have pulled up to port or not yet. So, of course, Disney came up with this:
Quoth the site:
"A cruise industry-first for all inside staterooms, Virtual Portholes offer a "window" to the world with a real-time view outside the ship. Entertaining, animated characters – such as Peach the starfish from the Disney-Pixar film "Finding Nemo" – may pop by the Virtual Porthole."
I SO NEED A VACATION!!!!!!!!!
I can't tell you how much I miss planning vacations! Before I moved here, I used to spend most of my year planning my annual Disney World trip. I spent hour upon hour devouring online message boards and sites, soaking up all kinds of info and making freakishly detailed plans. It was like organized daydreaming, and I loved it! Nowadays my Disney planning is more like "Hmm, I'm bored. I'm going to Epcot." Awesome in terms of convenience and getting to be spontanious, but not quite as eventful.
I'm thinking about taking up a cruise planning obsession instead. Hey, everyone needs a hobby, right?
There's this great guilty pleasure part of Disney trip planning- Menu Obsessing. Disney World restaurants book up MONTHS in advance, so diehard disney freaks study the updated restaurant menus online for like, a year in advance, and then call up the second the 180 day reservation window opens up. (It's good I used to be kind of one of these people back in the day, or dealing with them all the time at work would just be LOADS of fun!) I was never big on making reservations- I never knew for sure what I'd feel like, and I'm not a big fan of dropping crazy amounts of money on food.
For some reason though, I do have fun obsessing about cruise food! First, going to dinner on a cruise is a big event! Everyone gets all dressed up, and it takes hours, and it's basically the highlight of the evening. (Especially if you have a hot Greek waitor like I did last time! Nom nom!) Second, all of the food is included, so you can order fifty desserts, and they will totally bring them to you! And you can feel free to try things you might not normally try, 'cause if you hate it, you can just ask for something else. Fun! Plus, the food is AWESOME. Especially if you, like I, live off of pop tarts and taco bell.
Want to join in the menu drooling fun? Here's the current Animator's Palate menu: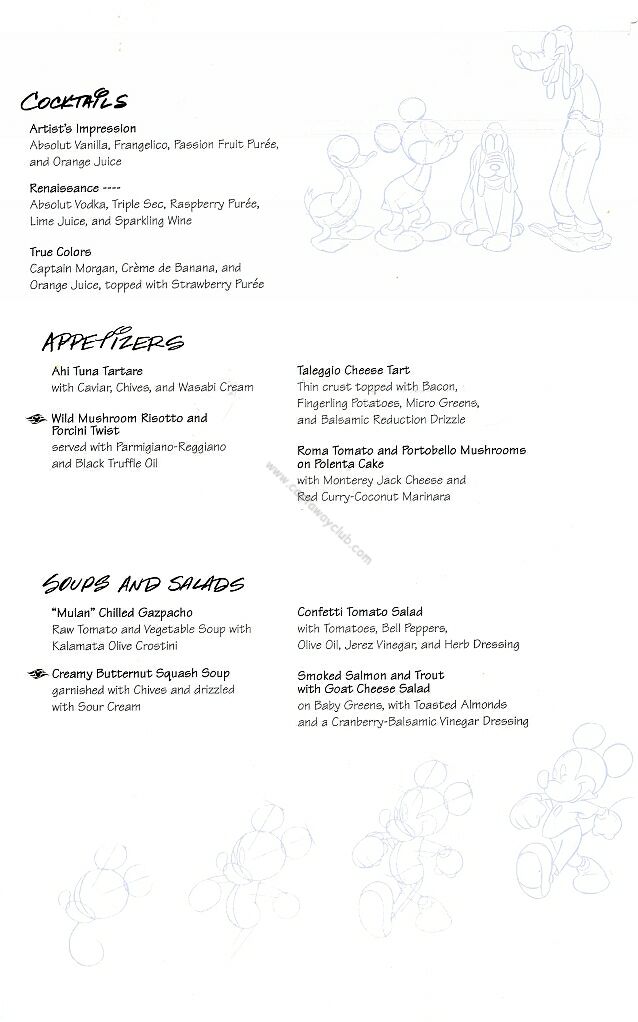 Normally I love all of the cocktail options, but all the puree somehow turns me off to these. Somehow, I just don't like anything pureed with my booze!
I don't eat seafood, and hate mushrooms, so that leaves us with the cheese tart thing from the appetizers! No idea what taleggio is, but it has the word cheese in it, so I think we're good!
The butternut squash soup gets major raves, but I think I'd stick with gazpacho! (I'm not a salad girl. At all. EVER.)
Entrees are where the choice gets tough! The pennette pasta sounds yummy because again, CHEESE! But the samosas could be a fun change. And mmmm, black bean chipoltle cakes! With salsa that includes cilantro, which is pretty much my favorite thing ever! Um, one of each, please?
And nom nom, bread with roasted garlic dip!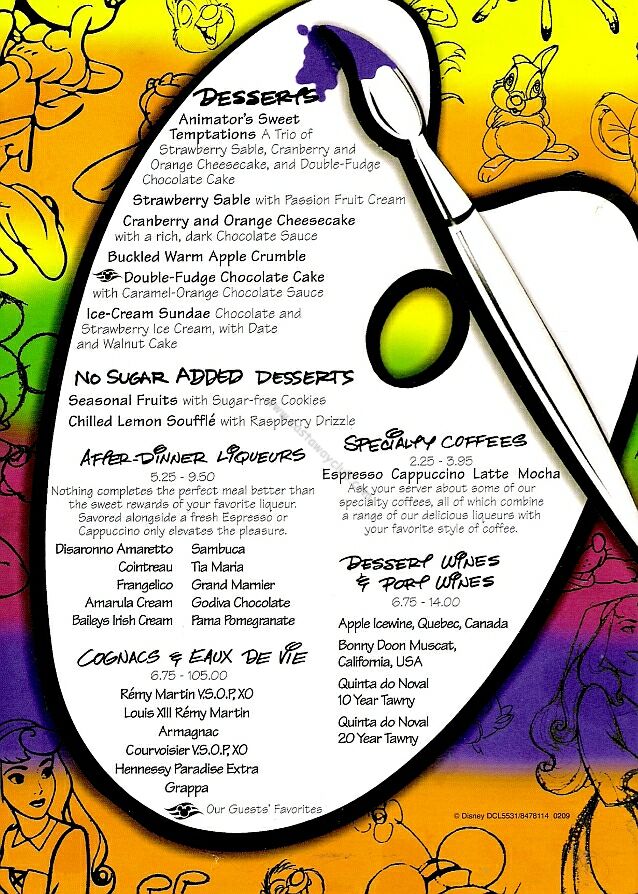 I think I'll just train my server on the first night to bring me every single dessert every night, and let it go from there. If I had to pick, I'd go with the sweet temptations trio, though!
What would you eat? And who wants to go on a cruise with me, already??