I hinted about this giveaway back in December, so I'm excited that its time has finally come! I have teamed up with EdenFantasys for a $25 gift card to their store!
I am in love with EdenFantasy's line of candles, among many of their other offerings! The one I've been drooling over most recently is the
Scent of Scandal
candle. The name is cute, as are the scent names (Backstabber, Casting Couch, etc.). They are vegan and cruelty-free, and a portion of the sales go to animal charities!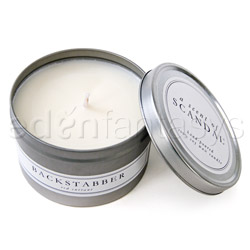 Another big reason that I love EF is that if you sign up for an account, you can earn points that you can trade in for a gift card. Searching for a product earns you 5 points, adding something to your wishlist gets you 5 points, and rating a review will earn you 2 points. 100 points equals a dollar, and I've found it really easy to earn a dollar's worth of points per day in just a few minutes. They also offer a reviewer program that lets you get FREE products in exchange for writing reviews! When you are on as tight of a budget as I am, these are both a BIG deal!
And now the giveaway! One of you will win a $25 gift card to Eden Fantasys!
The Rules!
1. You must be 18+ to enter
2. All entries must be recieved by 11:59 PM Central Time on 1/20/2011
3. This giveaway is open internationally, but please keep in mind that EF's shipping is $15+ to Canada and $25+ to countries other than US and Canada. (Shipping within the US is $5.95 for orders under $59 and free for orders over that amount.)
4. Please be sure to leave a valid e-mail address on your comment if it isn't displayed on your Blogger profile so I can contact you!
5. Winner will be chosen using random.org and contacted on or around 1/21/2011 and will have 48 hours to reply to the e-mail. If the winner does not reply within 48 hours, they forefit the prize and a new winner will be chosen.
How To Enter: Giveaway Closed
I mentioned back in December that the people who liked this blog on Facebook before the January giveaways were posted would get a bonus entry, so now it pays off if you did! If you are listed
here
, leave a comment letting me know!
Good luck and happy entering!