Do you know the difference between fishnet, industrial net and fence net stockings? I didn't until earlier this year, when I started spending way too much time on EdenFantasys.
So here's what I learned:
Fishnets are the smallest weave of the three- that is, they have the smallest spaces between the "stripes" of criss-crossing fabric. Industrial net is the next step up, and then fence nets have the largest holes. Fence nets are the easiest to identify, because they are huge, but fishnets and industrial nets can be a little harder to tell apart. Here's a visual aid:
The leg on the left is wearing these
fishnets
: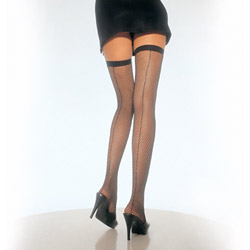 And the leg on the right is wearing
this pair
of industrial net thigh highs (both made by Leg Avenue).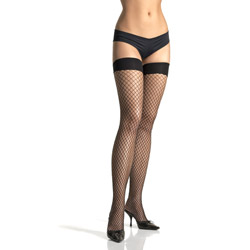 I didn't have any fence nets handy for the photo (and only have two legs), but this pair is a good example: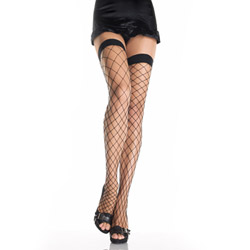 Why don't they teach you this important life stuff in school?