A new exhibit has just opened at the Metropolitan Museum of Art in NY featuring Alexander McQueen's awesomeness. I want to go SO VERY MUCH! I would just camp out in front of this display for hours:
There are some other amazeballs photos from the exhibit in
this article
.
One of the items on display is the "Jellyfish Ensemble"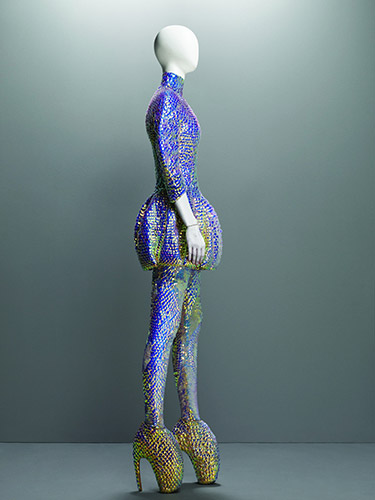 You can read about it
on the Met Blog
, if you are a ginormous nerd like me, but I'm sure you know it from a) my constant blabbing on about my love for the S/S 2010 collection, b) GaGa's Bad Romance video and c) Kurt Hummel's AMAZING recreation in the GaGa episode of Glee:
The coolest thing is that the Met's gift shop is selling TINY REPRODUCTIONS OF THE ARMADILLO SHOES! I MUST HAVE ONE OF THESE, YOU GUYS! (If anything ever called for all caps, this is it.)
On one hand I wish they had a variety of designs, but on the other I'd then have to buy them ALL and end up spending like a billion dollars.
This is the exact shoe that ornament is designed after, btw:
There is also a magnet of the the shoes that go with the Jellyfish ensemble:
Of course, 2 of the 3 things I must have are on back order, so I'll have to wait. I only have like $2 in my bank account right now anyway, so at least I have time to generate some income while I wait for them to be back in stock!
No, the Met isn't paying me to write this, by the way, but if they want to pay me in magnets and tiny replica shoes, I would totally be ok with that.
I want to go sooooooo much!