As I was pondering my packing list for next month's Montreal trip, I realized I needed a sort of medium-sized makeup bag so I could do my makeup for the concert while waiting around in line. I needed something big enough to carry a lot of different products, but small enough that I could then stick it in my purse during the show. For some reason, the Python Print Divine Carry-On from EdenFantasys came to mind. Although this bag is technically intended more for romantic getaways than carrying mascara and lip gloss, it is perfect for my trip! I ordered the pink bag, but it also comes in silver and white.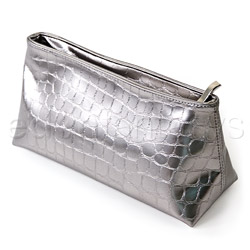 My bag arrived a couple of days ago, and it is PERFECT for the trip! It measures about 10" long and 4" deep and holds a TON of stuff. I tossed a few random makeup items inside to give you an idea of the size:
The items I have in there take up almost no room, I could still fit probably five or six times that much more in!
Of course, given my huge crush on The Edge and the fact that I'm going to be right in front of his side of the stage, maybe I should leave room for a few other EdenFantasys products in there!