I have a lot of posts in my head that I want to write, but I haven't really slept in about 3 days, so here's some quick random catching up!
1. Poor BonoCat finally got neutered yesterday! He's doing great, but seems to be feeling a little violated. He's been spending a lot of time curled up in my lap hiding.
2. EdenFantasys has started carrying dresses!
This one
will be showing up at my house today: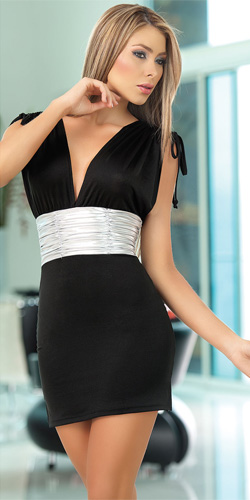 I'm too frickin' excited about it to even wait for my next EF post, I had to freak out here.
3. In honor of the 20th anniversary of U2's Achtung Baby (and the accompanying 20th anniversary remaster & documentary) there's a cd of covers coming out. At first I was pretty frickin' excited, because there are some pretty snazzy artists. Here's the list:
Nine Inch Nails - Zoo Station
U2 (Jacques Lu Cont Mix) - Even Better Than The Real Thing
Damien Rice - One
Patti Smith - Until The End Of The World
Garbage - Who's Gonna Ride Your Wild Horses
Depeche Mode - So Cruel
Snow Patrol - Mysterious Ways
The Fray - Trying To Throw Your Arms Around The World
Gavin Friday - The Fly
The Killers - Ultraviolet (Light My Way)
Glasvegas - Acrobat
Jack White - Love Is Blindness
The thing is, BBC radio (I think) played the Jack White cover of Love is Blindness a couple of days ago, so of course it ended up on the internet like 5 seconds later. I was actually pretty excited for that one, since I like Jack in general and since he's known for his distorted guitar sound, I thought he could do the solo parts some justice. I ended up HATING it. The whole magic of the original is the contrast between the lyric, which is delivered in a sort of hollow, empty way to a kind of funereal background sound, and this amazing guitar solo that I look at as sort of a flashback of the relationship falling apart. Jack *screams* the lyrics, full of rage and angst and all that, which totally goes against the nature of the song. I won't get into all the geekyness behind my dislike of it (already did that with the other nerds) but in short, I'm worried about the rest of the album now. I just know that if The Killers screw up Ultraviolet, I will never, ever forgive them. I am really curious to see what NIN does with Zoo Station, though. I guess I just hope there are a couple of awesome covers that come out of this.
4. I got some awesome stuff at a church yard sale over the weekend- they had a "stuff a bag of stuff for $2" and I ended up with like 20 books, several shirts and 2 dresses. Photos and an actual post coming soon! I also need to tell you guys the story of Katie, the dog flowers and the rooted washer, but that really deserves its own post.
5. This is weird, but I am super-curious: What did you have for dinner last night? I almost *never* make real food, so the concept that some people actually cook screws with my head. Did you have Pringles for dinner, too? Fill me in.