I'm linking up with
Mamarazzi
,
Queso
and
Crazymama
for We Want to Know Wednesday! This week is all about work!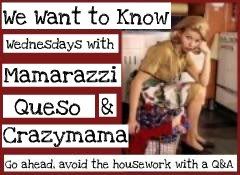 1. what is the worst job you have ever had?
I've never had anything horrendous. I was probably least happy selling eyeglass cleaner, because the whole sales thing is just against my personality.
2. have you ever been fired?
Nope! It came awfully close at Disney when I missed a lot of work due to illness, but good ol' FMLA saved me!
3. what would your dream job be?
I'd love to get paid to travel and either write about or photograph what I see! Basically, I want to be Samantha Brown, but who doesn't?
4. what did you want to be when you "grew up"?
I wanted to be a veterinarian for a REALLY long time. Luckily I figured out that it just isn't right for me just before dropping a bunch of cash on a pre-vet major. I'm fascinated by medicine, and I love animals, but I just am not cut out for seeing animals in pain or suffering. I used to cry giving my horse his shots every Spring.
5. how old were you when you got your first job?
13, wasn't everyone? (Child labor laws what?) I worked serving beverages in the little theatre at a local theme park. At 14 I upgraded to the ice cream/sandwich shop.
Don't forget to enter my Shabby Apple necklace giveaway below!