Can you believe it is already day FOUR of the new year? Tempis fugit!
I literally spent like a WEEK just sitting around doing nothing to recover from the holidays- having people around really wears me out, and between one of my sisters visiting with her daughter for like 5 days around Christmas and two of my other sisters plus two MORE nieces joining in for our Christmas dinner (which happened the day after Christmas), I totally hit people overload. SO TIRED! Finally starting to feel human again, though!
I *finally* got The Sims 3 for Christmas! I've been a Sims fan since the first one came out, but I was living in FL with only a half-dead laptop when Sims 3 came out, so I was never able to play. (Plus that whole thing where I was living on like $5 for food a week, so I wouldn't have been able to buy it anyway!) It took me a day or so to really get used to it, but I'm having fun! It came with the Pets expansion pack, but my poor old desktop needs some upgrades before I install it- just playing the base game makes it run REALLY slowly! One of the fans on the computer is giving out, too, so it makes awful clunky noises when it runs and occasionally randomly shuts down if it gets overheated. Both should be pretty cheap to fix, thankfully!
I might have to post some pics and stories from my Sims here, because I'm that much of a nerd. It's a little creepy how true to life they are sometimes!
In other news- can you guys believe that Ben is the new Bachelor? I heard about it a few months ago and was like "SERIOUSLY?" I so do not see the appeal, at all! I spent all of last season of The Bachelorette not being able to tell Ben and Constantine apart.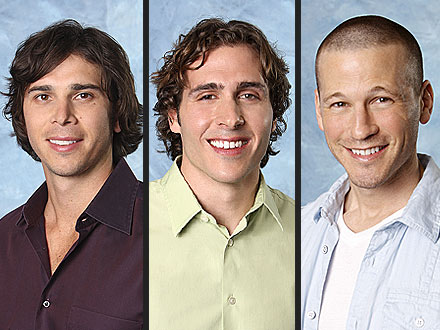 Ben is one of those two on the left. Your guess is as good as mine.
I seriously do NOT get the choice to make him the Bachelor! He was a total ass when Ashley didn't accept his proposal last season, he doesn't seem to have much personality, and I just plain don't find him attractive. Still, I can't resist awful reality TV, so I'll be watching! My top picks are Nicki, Linzey (or however the eff she spells it), Emily and Jamie. Are you watching the trainwreck, too? Would you totally ignore Ben if he approached you in a bar, or do you actually find him hot? My theory is that if Ben is the hottest "available bachelor" out there, I should maybe just get more cats and give up.
My only resolution last year was to read 50 books in 2011, and I came in right at 50, woohoo! I'm aiming for 50 again this year, and have already crossed 2 off my list. I really want to do a post about my favorites from last year soon!
Toey is starting to feel better, by the way. He's been eating his special food, and we got a suppliment that's also supposed to help, so I think he's a lot less miserable than he was. If the vet's estimation of 5 months of sick kitten was wrong, I'll be SO HAPPY!
That's about it in terms of updateyness. Have you recovered from the holiday crazyness yet?