I missed Project Runway All Stars the other night because my electric sockets were being evil and I had to have an electrician out to replace the one my TV plugs into. Anyway, I just caught up on Hulu, and y'all, we need to talk about this.
The challenge this week? To design a dress for Miss Piggy. Last week: Badgley Mischka. This week? Muppets. Really?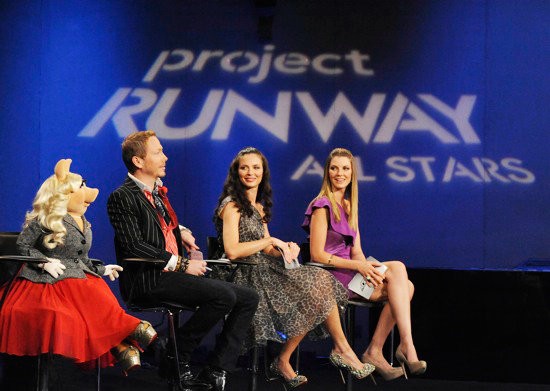 Don't get me wrong, I frickin' love the Muppets, as I'm sure anyone in their right mind does. I go to Muppet Vision 3D almost every time I'm at Hollywood Studios.
I kinda went back and forth on how I felt about the assignment itself- to make a flamboyant cocktail dress for Miss Piggy. It is a cute challenge, and a little more creative than the "make an outfit out of random crap" they keep doing. I like that they had to think out of the usual design scale, too- what looks great on a size 0 model isn't necessarily going to work on a Muppet. However, the designers still *used* their regular models. I think the challenge would have been better if they actually had to design for the Muppet-sized frame.
It is kind of funny how serious everyone took it. When Joanna (their mentor) asked how a pig will feel about wearing a giraffe print, I mentally heard Santino from Season 1 breaking out into song- "Lighten up, it's just faaaaashion!"
Random notes from judging:
There were actually NO dresses in the runway show that I looked at and was like, "Oh, that's perfect!"
I kind of want to spend the rest of my life watching Austin Scarlet converse with Miss Piggy.
I want the polka dot dress for me.
I don't want to post any major spoilers, for those who are behind like I was, but I'm curious what you guys thought about this episode!