For those of you who haven't done your Christmas shopping yet (Are we supposed to have started already?), I offer these rad suggestions!
For your Crazy Cat Lady friends (or for your own cats!):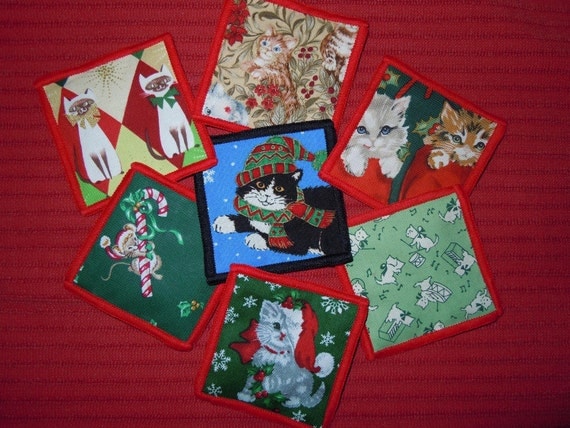 Cat Sacs
and
Jumbo Cat Sacs
from Hazen's Attic on Etsy
Shhh, don't tell my cats but this is totally what they are getting this year! I did a review/giveaway for this company ages ago, and these are still some of the most-loved toys at my house! You can get 6 of the little catnip filled squares (shown above) for $5 (singles are $1.50), or the much larger jumbo toys for $5 each, or 3 for $11. She has both Christmas and regular patterns to choose from.
For when you need a bunch of small gifts:
Last year I picked up this
Plane Friendly Travel Kit
by Cake Beauty and split the bottles up to be separate gifts. (Totally kept the bag and the It's A Slice body lotion for myself, though!) The set sells for $27.99, but it's on sale right now at 20% off which makes it $22.39. That comes out to around $4.50 per lotion or shower gel. These make a great gift because the scents (and quality!) are amazing, everyone loves bath/body stuff, and it's a brand that not enough people are familiar with yet, so it's not likely something that the recipient will already have.
For your sexy guitarist boyfriend:
I want one of these guitar pick punches from
Uncommon Goods
SO MUCH, since I'm always losing guitar picks. What a cool way to recycle old credit cards!
For mom/sisters/friends/pretty much anyone:
Bath and Body Works mini candles make my list because they're usually on sale for 2 for $5, making them totally budget-friendly but still a quality gift. The only thing that makes these a little tricky as a gift is that the scents people like are super subjective. I'm a fan of the French Baguette scent pictured above, and I think it's pretty fail safe as a gift, but you can have fun sniffing your way around the store and picking out scents you think your friends will like! (It's usually pretty easy to find BBW coupons for 20% off your purchase or $10 off $30, which makes this an even more affordable option!)
For a new mom:
Satin Sugar Hair and Body Powder
If you're like me, your Facebook wall is often full of posts from new moms complaining that they never even have enough time to shower. This stuff is SO awesome that it would be great for pretty much anyone, but I think it would be an especially good gift for someone who has just popped out a baby and could use a really quick way to look/feel a little better. I've had this for about a year- you just rub a little bit of the powder into your oily roots, and it sucks up the oil and gives your head a sweet smell. It obviously doesn't replace washing your hair, but it's a lifesaver for adding an extra day between washings! (I linked to the one for dark hair, but it's also available for light! And you can use promo code SP3 for 15% off.)
For your socially-conscious coffee addict friends:
Green Mountain Wild Mountain Blueberry K-Cups
I always look for Fair Trade coffee so I can sip with a good conscience, and this is one of my favorites. It's a really unique flavor, perfect for anyone who likes to try new drinks! If your coffee-lovin' friend is into more traditional coffee, they might like
Green Mountain's Trade Organic Sumatran Reserve Extra Bold K-Cups
instead.
For meeeeeeeeeeeee:
Rose Gold BCBG Max Azria Misha Shoes
I love everything about these- the tiny wedge heel, the varying size of the sequins/studs, the unusual rose gold color!
Have you guys bought any gifts that you're super excited to give yet?
Just a note- there are a couple of affiliate links in there, 'cause I have cats to feed, but the majority are just plain old links. I chose products I really like and think will be awesome gifts, no matter which site they came from.