NYFW is basically my favorite holiday. It's like Christmas and Valentine's Day and Halloween and Arbor Day all rolled into one, and tied with a couture bow. Let's jump in to some of the highlights so far!
I love Max Azria as a rule, but this BCBG show wasn't my favorite. I do have to comment on these... what would you even call these? Faux leather legwarmers? I don't even know. But I like them! How rad would these be for when you want that "leggings under a dress" look? I'm kinda fascinated, and I hope these become a thing. Even though this wasn't my favorite collection, I did love the masterful mixing of textures and prints! Really well done.
This, from Costello Tagliapietra, is one of those things that I like more in theory than in execution. I pinned this pic to my "
Sewing Inspiration
" board on Pinterest, though, because this knitted... shrug? cape? Thing? seems like an awesome scarf alternative for winter, and it would probably be pretty easy to make from an old sweater.
Red Valentino was one of those shows where I really felt the need to stop and study every detail of each look before moving on to the next. I loved that the Hansel and Gretel inspiration wasn't taken too literally, but was still obviously there. Plus, I am legit obsessed with these knee socks. Favorite collection so far this season!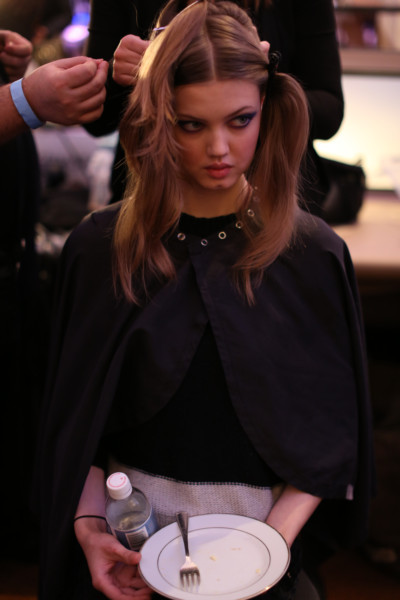 I love this pic from backstage at Jason Wu! (Via nytimes.com)
Giving myself a high five for being fairly caught up so far! I am a little sad that there hasn't been anything outlandishly horrible to mock yet, but I'm holding out hope! It's also a little sad that out of the 32 shows I've looked at so far, I only found 3 looks that felt worthy of commentary.
I am curious about how the possible impending blizzard in New York is going to impact the rest of Fashion Week!
All images via style.com, because they are awesome.