As a bit of a beauty product nerd, I love trying out new skin care products, so when I was asked if I'd like to check out the new
Olay
Fresh Effects line of products, the answer was an obvious yes! They sent me all 6 products, and I thought I'd share my first impressions with you guys, since as of yesterday they're officially in stores.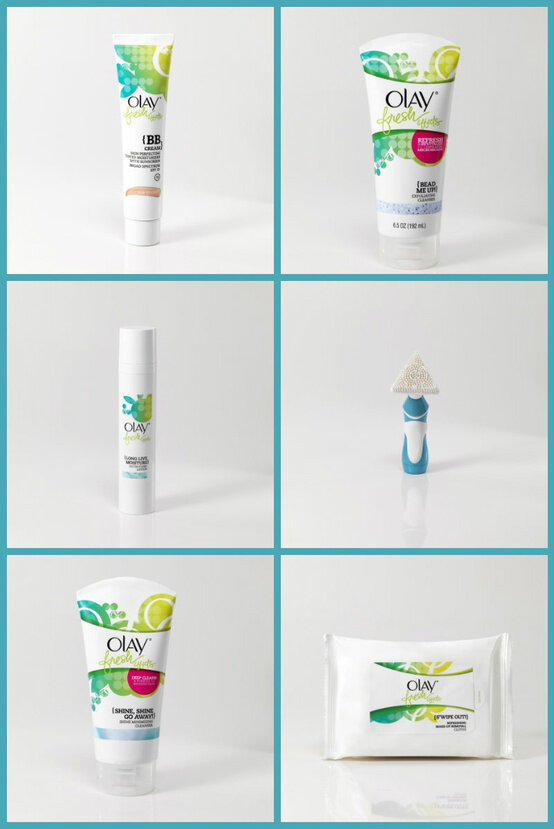 First of all, if you follow me on
Twitter
, you may remember when I tweeted about the box that this stuff came in. The box that the delivery guy dropped off was HUGE! It became an instant favorite among my cats.
Puck declared himself King of the Box.
I could NOT figure out why they sent skin care products in such a ginormous box, but soon it all made sense! They didn't just send the products... they sent an entire little pop-up table/desk/vanity thingy to hold them, too!
Olay does NOT mess around, I guess! And yep, it has mirrors!
I could tell from the design of the Fresh Effects website that they're definitely marketing these to a younger crowd than some of the other Olay product lines are aimed at. The packaging is modern and colorful, they have social media accounts on almost every platform imaginable, and the whole website had a very youthful vibe. I did roll my eyes a bit at the fact that it featured Blair Fowler (JuicyStar07 from YouTube), since I'm not exactly a fan, but I can see how she fits the target demographic.
The first cleanser I tried was the
Bead Me Up Exfoliating Cleanser
.
This cleanser foams up lightly as you use it, and contains tiny exfoliating beads. As someone who tends to get super sneezy at scented products of any kind, I was worried when I noticed a light smell coming from the tube when I opened it. Thankfully, the scent is pretty light and it did not make me sneeze! The amount of fragrance that lingered on my skin after washing was minimal, too. My skin felt clean and soft after using it. Some exfoliating cleansers leave your skin feeling raw, but this was very gentle. I was actually a little confused by the packaging, which shows the exfoliating beads pretty prominently, since they're not at all visible in the actual cleanser. (In fact, you barely even feel them!)
I used the cleanser in combination with the
Va-Va Vivid Contour Cleansing System
. Is that name a mouthful or what?? It's a battery powered device with a rubbery bristled brush on one end that you can use for extra oomph when you're washing your face. Since it just vibrates instead of rotating like some cleaning systems, I found it to be a lot more gentle on my skin. The contoured design really does make it a LOT easier to cleanse in tricky areas like around your nose. I also appreciate the small size- it's not going to take up a ton of room when you're traveling, or needs its own drawer in the bathroom. I did notice that the vibrations irritated my nasal passages if I used it on my nose, so I hit the little off button before tackling that area.
If you untwist the cap at the bottom of the handle, the upper part of the cleansing doo-dad (technical term) pops apart so that you can change out the battery when it runs out. (It takes one AAA). There's a nice o-ring around the opening, so this little tool is pretty waterproof, which means it's safe if you want to use it to wash your face in the shower. I'd avoid totally submerging it in water just to be safe, but you can pop the brush head off if you want to get super serious about cleaning it. (I found that just rinsing it under a steady stream of water cleared out the excess cleanser quite nicely!)
The next cleanser I tried was the
Shine, Shine Go Away! Shine Minimizing Cleanser
.
This was my favorite product out of everything that I tried! It's a lot like a purifying mask, but you use it like a regular cleanser (no letting it dry or anything). The scent was super light, so it didn't bother me at all. Plus, I love the irony that a product that eliminates shine on your face is shiny itself! Check it out!
So, how do the two cleansers compare?
In my experience, they were pretty equal in terms of results. Both cleansers left my skin feeling clean without feeling all dried out. I'll continue to use both of these, but I do prefer the Shine Shine Go Away just a bit because it has less fragrance. All of these products are designed to work together, so you can use either of these cleansers with the Va Va Vivid cleansing system.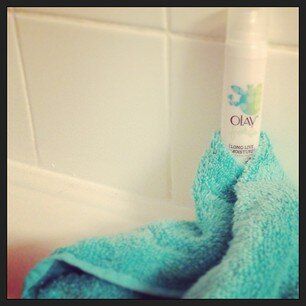 I totally stole this pic from the Fresh Effects Twitter, because I couldn't think of a cuter way to show the moisturizer than this!
After my face was clean, I got to try out the lightweight
Long Live Moisture Satin Finish Moisturizer
. It falls somewhere between a gel and a lotion in terms of texture/consistency, and it dries to a powder soft finish. Like the cleansers, it does have a bit of a scent to it, but nothing overwhelming. They're not kidding when they say it's lightweight- I couldn't even feel it after I applied it. It's oil free, so it doesn't make you feel greasy. Even several hours later, there wasn't any hint of oil or shine to my skin. Score! I usually seek out paraben-free products, so I was bummed to see that this moisturizer does contain some.
I also received the
BB Cream
to try out, but unfortunately I can't offer much insight since I had to wash it off about 30 seconds after applying because the fragrance was making me sneeze. If you're not sensitive to fragrances, it's worth checking out! From the limited experience I had, I could tell that it goes on smoothly and evenly, and feels nice and light on the skin.
So far, it's only available in the shades "Fair to Light" or "Light to Medium", so I hope they will expand the colors offered soon! As you guys probably know, I'm about as pale as humanly possible, but I received the darker of the two shades and there wasn't enough pigment to it for it to look TOO dark on me. I love that this has SPF 15. I'm admittedly lazy at times about remembering to put on a sunscreen before my foundation, so I like products where it's built in- one less thing to worry about!
Last but not least, I tried out the
S'Wipe Out! Refreshing Make-up Removal Cloths
. I wanted to try them out on a day that I had a full face of makeup, since their info says they'll even take off waterproof mascara with ease.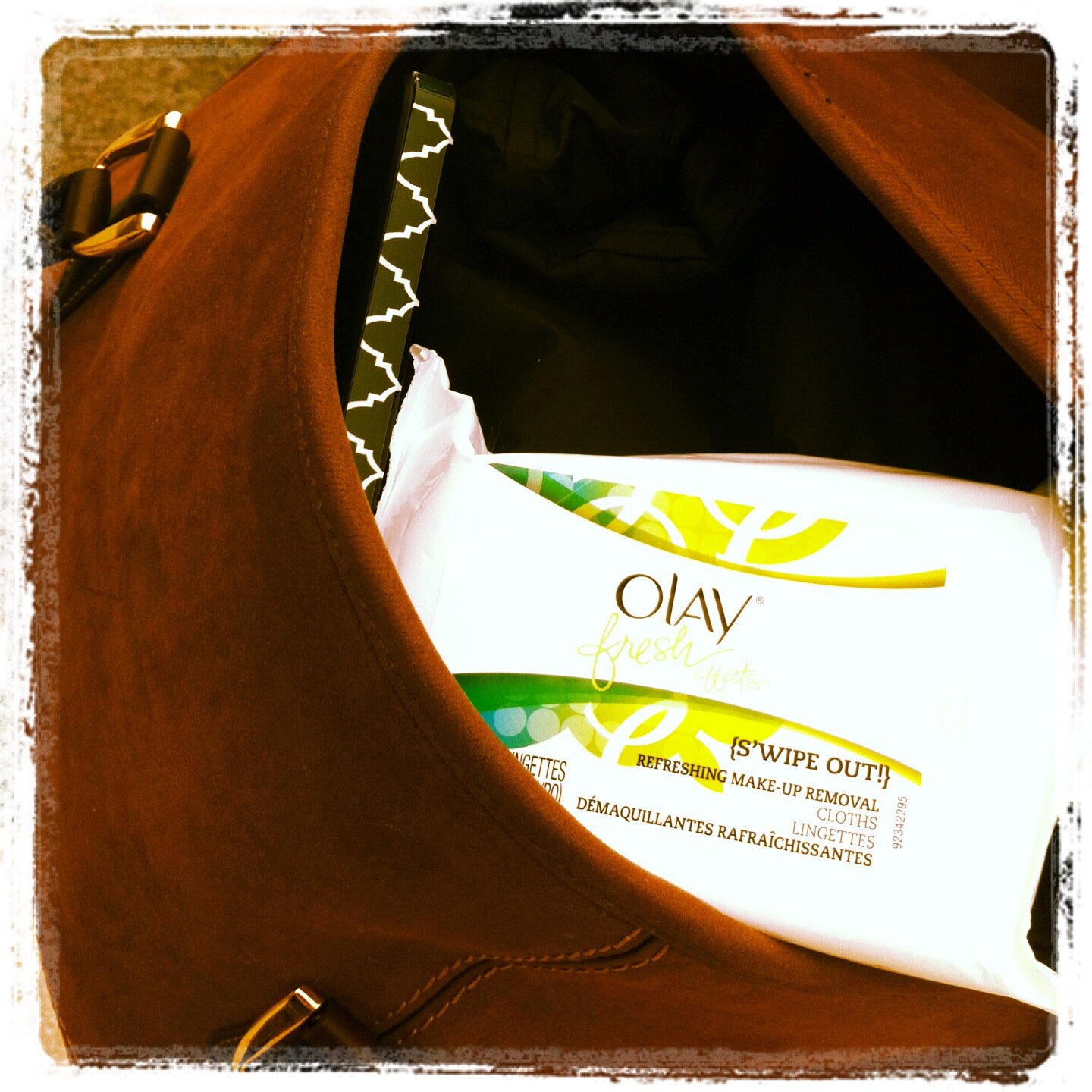 Confession: I got distracted by other things and started taking the lazy route when it came to product photos. Sorry. I lovingly stole this one from their Twitter, too.
These are probably my 2nd favorite from this collection! One of these wipes took off all of my makeup (yes, including mascara!) with ease, and left my face feeling fresh. My first thought was that these would be amazing to keep by your bed for those nights when you're about to fall asleep and realize you still have makeup on! I was happy to find that they're really gentle on the skin, since some makeup removing wipes I've used in the past have irritated my face. Major thumbs-up for these!
The products in the Fresh Effects collection range in price from $4.97-$12.97 at my local Wal-Mart. (This could obviously vary a bit depending on where you live.) You can find them all online
here
!
For more info, you can find Olay on
Twitter
and
Facebook
, and there's also a Fresh Effects
Pinterest
and
Instagram
!
Have any of you guys tried these out yet? If you have questions about any of these, feel free to ask! If you'd like to see a video review, too, just let me know and I'll try to make time for one.
NOTE: Olay does not represent or warrant the accuracy of any statements or product claims made here, nor does it endorse any opinions expressed within this blogsite.
The Olay Fresh Effects product, information, and gift packs have been provided by Olay, but all opinions are 100% my own.