You guys... I leave for Florida REALLY soon! Eeeep!
According to Google Maps, it's going to be around a 19 hour drive. So much fun, right? Especially with cats in the car? Thankfully, I have an awesome destination planned for my first night - New Orleans, yay! I've written a few times in the past couple of years about how much I want to go there, so I decided that it was totally worth adding about 90 minutes to my drive to spend the night there instead of some random town in Alabama. I won't have much time to explore, but it's better than nothing!
So, here are my top 7 things that I hope to smoosh into those few free hours!
Grab a drink at Lafitte's Blacksmith Shop Bar
Built in the 1720s, this is the oldest bar in the US. The blacksmith shop was originally a cover for Jean Lafitte's smuggling business. I became fond of Jean and his brother Pierre (and possible brother Dominique You) while reading a history of the Battle of New Orleans a while back, so I feel the need to swing by his old place. There's no electricity, so the whole place is candlelit.
image source

Bourbon Street
While I'm more into the music and culture and architecture types of things than the party atmosphere of
Bourbon Street
, I still think it's a must do.
source
Beignets and cafe au lait at Cafe Du Monde -
No explanation needed.
source
Muffalletta
, preferably from Central Grocery! Nom.
Rebirth Brass Band
Catch some awesome live music
. Hopefully a mix of random street performers and some time in bars listening to great jazz or blues.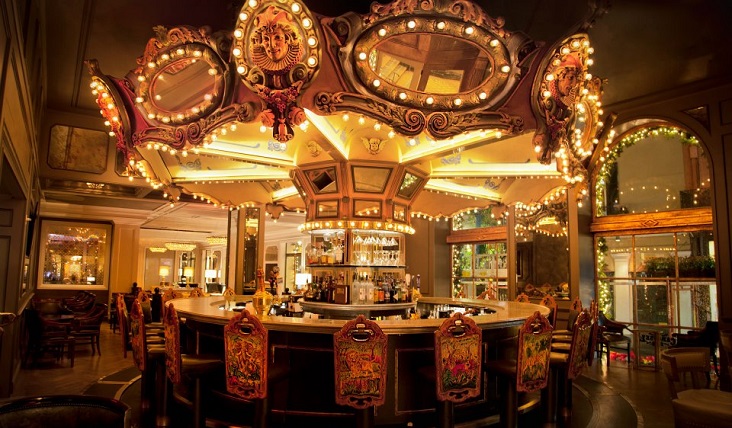 Drink(s) at the Carousel Bar at Hotel Monteleone
- Is the room spinning? Nope, but the bar is! Thankfully, it moves verrrrry slowly (one rotation takes 15 minutes).
Just wander around.
This whole city has such a strange, unique beauty. I'm dying to just wander, take some photos, and soak it all in.
There are SO many other things I'd love to do, but I had to narrow it down to what I can realistically fit into the couple of hours I'll have on the night I arrive, and maybe an hour before I leave the next morning. Any suggestions to add? Laissez les bon temps roulez!