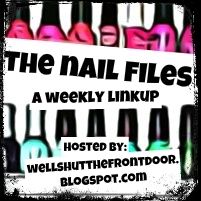 A few weeks ago, I emailed Barbara from I Love Nail Polish about a great pink polish on her site that I thought I might be able to get away with wearing at Disney (we can only wear natural, neutral colors.) and she was awesome enough to send me not only that pink, but two other colors as well! I'll show you guys the pink polish in question in an upcoming post about Disney look guidelines, but for today I'm going to show off one of the other colors she sent!
This color is called "
Sniffany
", and it's awfully reminiscent of a certain jewelry store's signature color!
Love the packaging!
It's definitely darker on than in the bottle!
At first I wasn't totally sure that this was a summery color, but then I realized how nicely it complimented one of my favorite hot weather tops!
I have a teal glitter polish that would look awesome on top of this color, but almost all of my nail stuff is already packed away for Florida! Maybe once I'm settled into the new place I can do something more creative with this color, and post again!