I just came across "The Sunday Currently" linkup while catching up on blogs, and thought I'd give it a go! Don't you love that I went from no posts for 2 weeks to 3 in one day? Whee!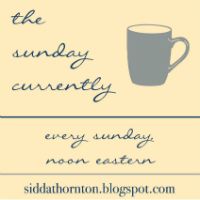 Currently I'm...
Reading -
I borrowed the first book in the Mortal Instruments series from Ashlee when I was staying with her, since I needed a fluffy vacation read. I'm about 4/5 through, need to finish it up today or tomorrow!
Writing
- Notes for some blog posts I want to do when I get home!
Listening
to Darko Gray. I got to sit in on their band practice last week - fun!
Thinking about all of the things I want to smoosh into my last couple of days in Florida!
Smelling
the veggie couscous I made for lunch! Nom!
Wishing
I wasn't going home to freezing cold weather in a few days!
Hoping
to be back in Orlando permanently or at least semi-permanently soon!.
Wearing
jeans and a black t-shirt. Sooooo fashion forward!
Loving
the fact that it is 82 degrees outside right now.
Wanting
the rest of the amazing brownie cheesecake I bought at Publix yesterday. I've missed you so much, Publix!
Needing
to stop at Lush to pick up new shampoo before I leave town!
Clicking
on nothing! I've spent almost no time on the ol' internets over the past 2 weeks!
Excited to tell you guys about my adventures once I'm home!