I know I'm a few days late in writing about Golden Globes red carpet fashion, but I've been so busy drooling over Pre-Fall fashion week that I totally fell behind! I actually almost skipped discussing this particular awards show, but there were a few looks that I just couldn't resist commenting on!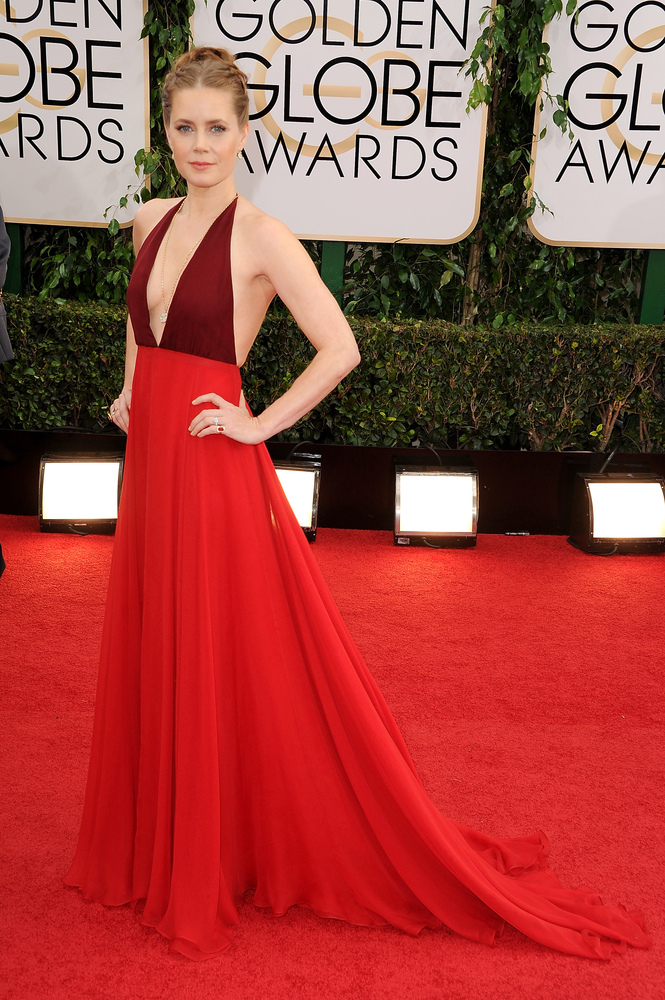 I'm a bit on the fence about Amy Adams's gown. This was voted as one of the worst by Fashion Police, but I sort of like it! I do hate red gowns on a red carpet, though. I think that I mainly like it because I want to wear it. I can't wear halters, though, because I am yet to find a halter neck bra that doesn't nearly strangle me with the weight of my own boobs. So, yeah... kind of equal on the pros and cons here, but definitely NOT a worst-dressed!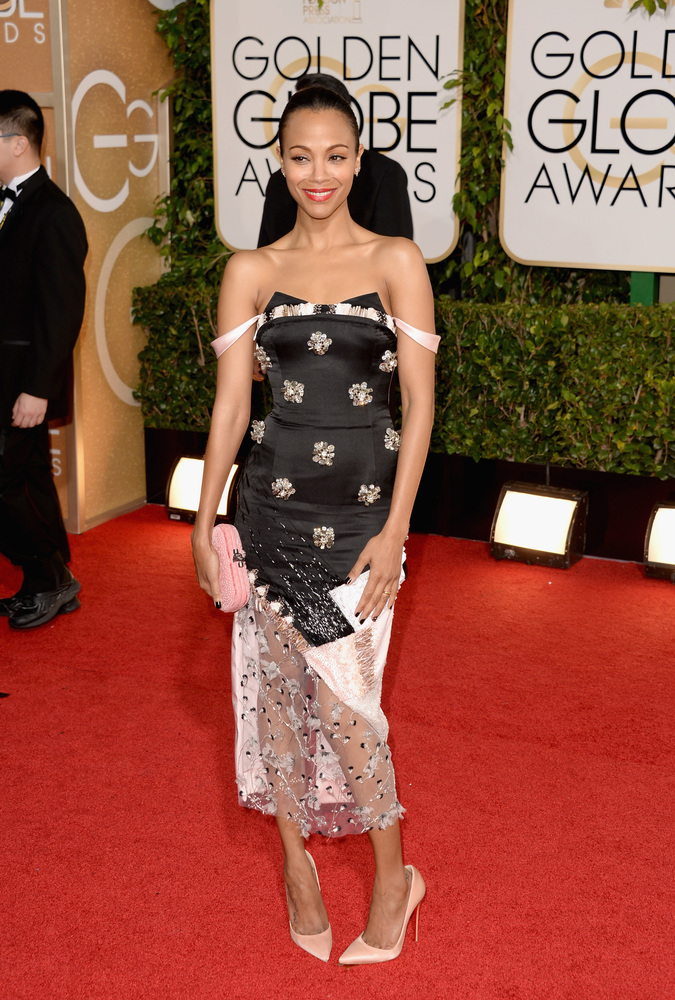 Ohhh, Zoe Saldana. I get the urge to go for something unusual in order to stand out, but I think this dress was a total miss, as was pairing it with black nails and pointy-toed 80s-esque pumps, even if they are Louboutins. I can't imagine that having those straps around your shoulders for the whole event could be anything but annoying. It's just... there are SO many amazing, "quirky" dresses out there if that's the vibe you're going for. Why this one?
I remember the collection that this came from (Spring runways weren't THAT long ago...) but not the dress itself, so I had to pull it up on my holiest of websites, style.com.
The way it's styled here (especially the shoes) make some difference, but I still don't see it as an awards ceremony dress.
Okay, let's discuss. Like most humans, I think Lena Dunham is pretty great. This dress, though, oh man. The primary yellow on red carpet is giving me a hankering for a Happy Meal. I do think that a lot of why this isn't coming off very flattering is the way she's standing - a bit of "shoulders back" proper posture would make this look a thousand times better. Still, I think there are about a thousand other dresses that would have been more flattering. Also: Can we take a second to check out the girl in black behind her, practicing her Angelina Jolie-style leg out to the side? Rad.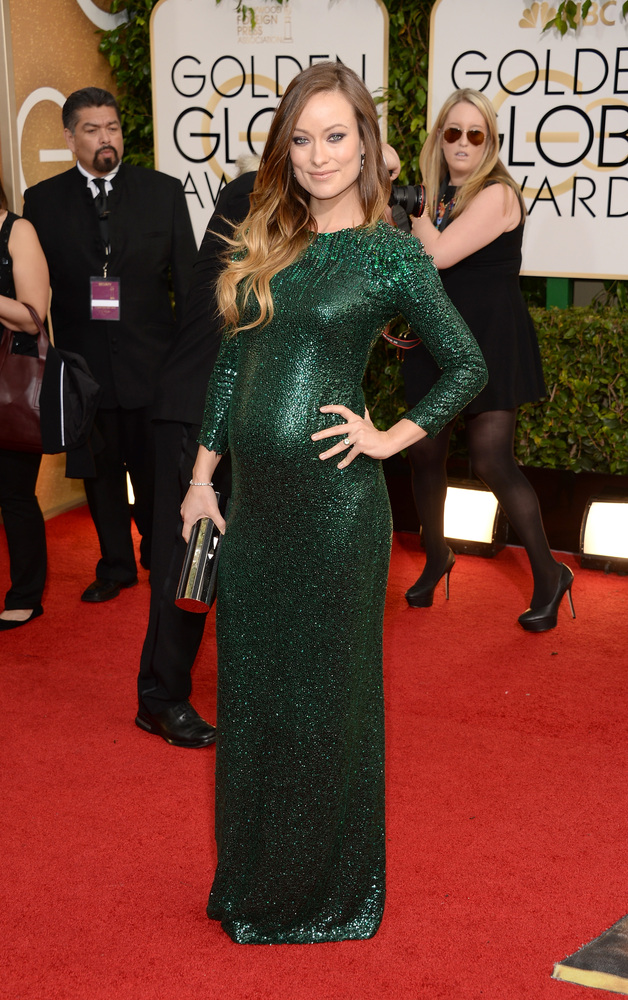 I would totally not mind looking like Olivia Wilde for a day. Maybe minus the pregnancy part. This dress is so awesome, but the sort of reptilian look does give her just a hint of the image of a snake who has just swallowed some poor critter whole. Do you think Gucci would make a mini version of this dress for me? I'm obsessed with the color and sparkles. (And yes, another spectacular pose by a background person. Work it, girl.)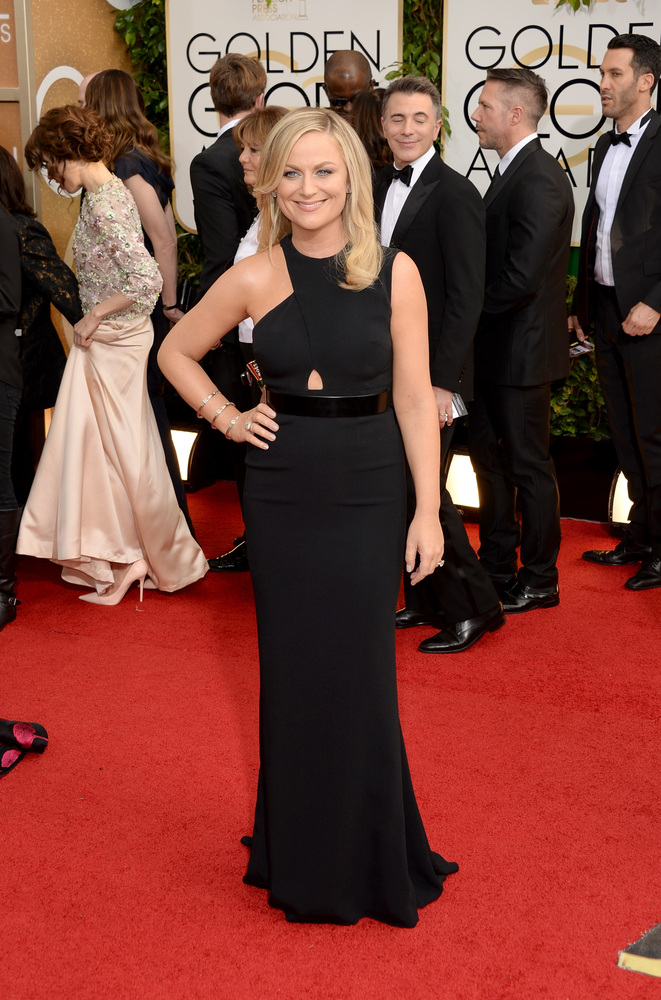 I'm not in love with Amy's dress, which is surprising since it's Carolina Herrera, but I had to mention her here entirely because as a U2 fan, my Facebook and Twitter timelines BLEW UP when this happened:
The moment with Edge's face on the left is obviously the best part. I should go make out with him so he doesn't feel left out.
Speaking of...
I've missed you, boys! Adam's hair is still a little scary, but at least it's not doing that
thing
anymore. (I'm ignoring the shoes. La la la, if I just don't look, they aren't there.) Also, I want to hop into this pic and unroll the cuffs of Edge's pants. Also also: Hi, Larry. I seeeee you back there. (Also also also: ZOMG WHEN IS IT GOING TO BE TOUR TIME? HURRY UP!) (Also also also also: I'm really sad that Ali Hewson isn't in this pic, because she looked
gorgeous
.)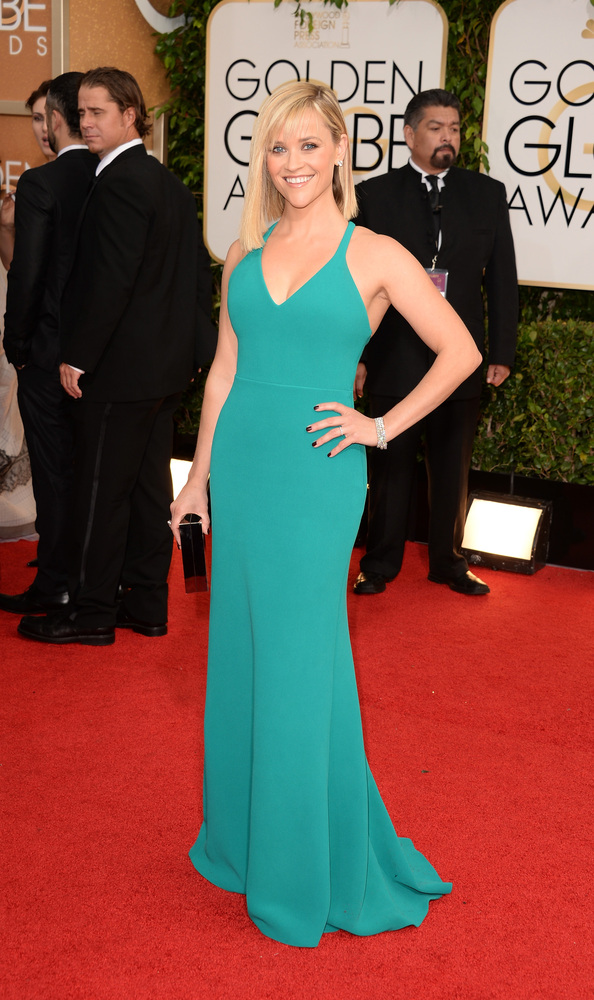 Reese's Calvin Klein dress is frustrating me, y'all! Her body looks smokin' hot, and that color is amazing, but it looks SO PLAIN. This is when you break out a bling-y belt or a serious statement necklace. The lack of accessorizing is making it look like a cute maxi dress from Target made from a nicer fabric. ARRGH. Let me fix you, dress! Let me style you with love!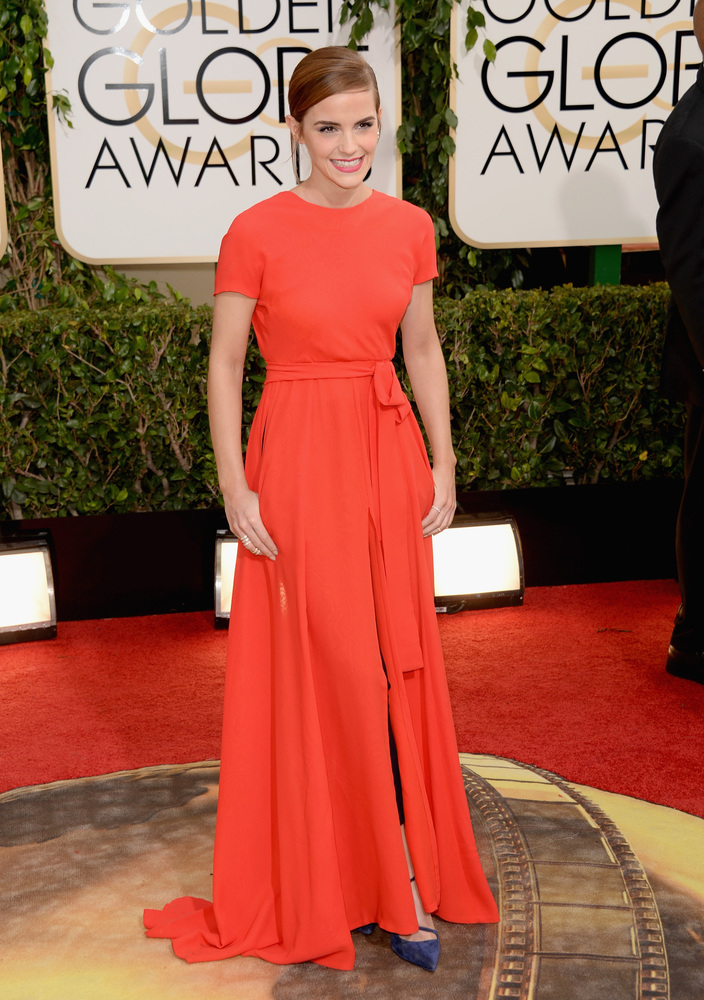 Dear Emma Watson, can we be BFF's? This Dior dress looks kinda "Hi, I'm Hermione!" from the front, but back! THE BACK!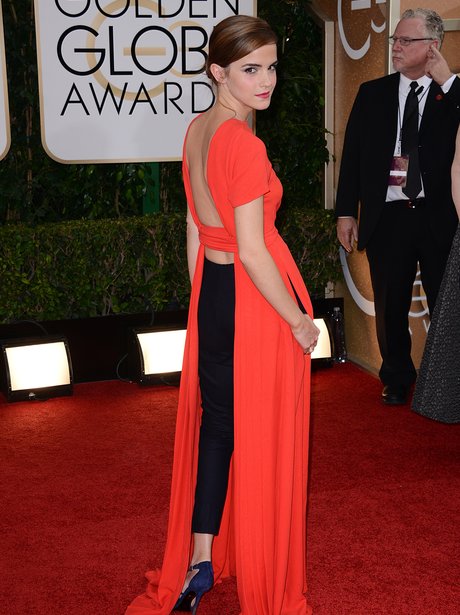 I need to do this with a dress like.. tomorrow. I always end up with super cute dresses that won't zip all of the way up in the back because I have boobs of doom, but now I realize I can do THIS. This is happening, y'all.
My only question is the shoes. If it was just a red dress, the blue shoes would be cute. But I'm not digging them with the black pants. Still, I will forgive them. I'm still surprised that I'm loving this so much, since in general je n'adore pas Dior.
And there you have it: The good, the bad, and the Bono. What were your favorites?
All images via Getty Images/Huff Post Style/Style.com