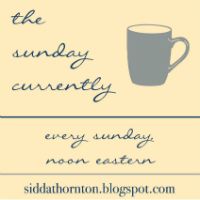 Reading
- Still doing my Harry Potter reread, but I'm on the last book now! (Harry Potter and the Extended Camping Trip!) I'm also about half way through Gretchin Rubin's "Happier At Home", and just finished the 2nd Game of Thrones book yesterday.
Writing
- Nada. I really need to do something to shake up my creative juices (that sounds dirty), I've been totally uninspired lately.
Listening
- I was looking through an old YouTube playlist this week and was reminded how much I love this song, so I've become readdicted to it.
Fun fact: My buddy Nick played fiddle for Kenny for like 10 years. I was always kind of delighted to spot him in a video. (He's um, pretty obviously not in this one.) Also - I totally want that criss-crossy bikini bottom. I wonder if I could make something like that?
Thinking
- About a super weird thing that happened to me while buying groceries. As I was walking towards a register, the person in front of me hesitated a moment before picking which lane to go to. During that moment, a woman slipped in front of me, sort of cutting in line. She only had one item, though, and I had several, so I pretty much just rolled my eyes and then went back to totally enjoying the fact that Walmart was actually playing Titanium as background shopping music. She paid for her item and then turned to me as I was loading my things on the conveyor belt thingy. "I wanted to apologize for cutting in front of you..." she began, and I immediately shrugged it off. "It's fine." But she continued, "I have a really stressful life, and if I'm gone for more than 15 minutes my husband thinks I'm seeing someone, and..." she went on and on. All I could think was dude, it's taking you as long to tell me about this as it would have for you to actually wait in line. I also wanted to give her a good old fashioned "Look at your life choices!" speech, but mostly I just wanted to buy my stuff and go. Moral of the story: People are weird.
Smelling
- Merry Cookie has been my go-to candle all month!
Wishing
- Given that it's a brand new year, I'm way more in "set goals and make them happen" mode than wishing mode!
Hoping
- That 2014 will be amazing.
Wearing
- Can we take this moment to discuss how much I hate winter clothes? I never feel cute in them, it's all about covering my body with the warmest thing possible. That's zero fun.
Loving
- The new concealer I got from e.l.f.! Must review it soon.
Wanting
- Black bean enchiladas from Tijuana Flats. I'm going to get so fat when I move back to Florida and have access to good food again. Can't wait.
Needing
- To do some yoga! I haven't been very kind to my body lately.
Feeling
- COLD! It is 16 degrees, and the low for today is going to be -5. It's currently 81 in Orlando. Can't imagine why I want to move back so much.
Current view out my bedroom window.
Clicking
- No fun links to share today, I'm just trying to catch up on a zillion unread posts in Bloglovin!