Do you guys ever end up shopping for made-up occasions? For instance, I'll think "I'm sick of cold. I want to go ona cruise somewhere warm and sunny and palm tree-y!" That thought leads to "I wonder what I'd wear on a cruise?" and then the next thing I know I've just pinned like 40 cruise outfits on Pinterest and it's 5 am. Please tell me that this happens to you guys, too? Anyway, last night I found myself thinking about adorable, disgustingly romantic Valentines day dates, and I ended up browsing for cute dresses. I thought I'd share some of my favorites! (And nope, I don't have plans this year. I just spent like 3 hours browsing dresses because that's how I roll.)
Daytime/Casual Looks
I am totally in love with this dress, but I can NOT figure out what kind of shoes I'd wear with it. Anything red would be too matchy-matchy, and it's so hard to find white shoes that don't look tacky. Maybe a minimalistic sandal in a nude/neutral color? Or would you throw in a curveball with a different bright color like blue or purple? Go metallic? I have NO idea!
This dress, on the other hand, would be
perfect
with red shoes! Maybe something like this?
I feel like the two small-ish pops of red would be a fun nod to the holiday without being all covered in hearts and flowers, ya know?
Or, if you're doing something super casual...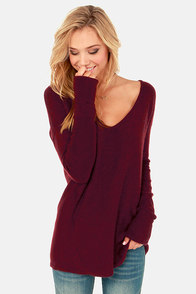 Plus...
My favorite jeans from
Target
(Fit #6 is the best!)
Plus....
Are the burgundy boots with the almost same color sweater too much? Would a dark brown be better? And maybe throw in some gold earrings?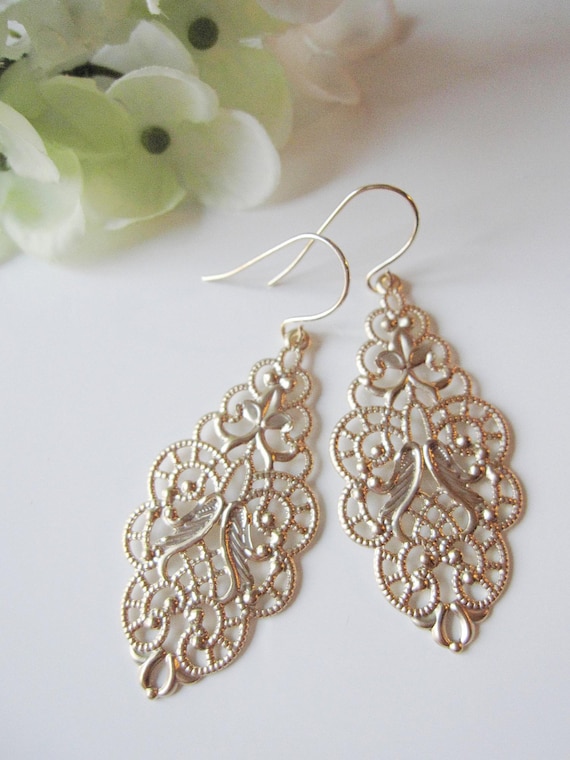 I made the mistake of searching Etsy for gold earrings. Excuse me while I cry over all of the pretty things I can't afford right now! These are from
Redpeonycreations
.
Night Out Looks:
This dress went straight to my
Sewing Inspiration
board on Pinterest the moment I saw it. I *must* make a v-backed red dress embellished with lace now. This is just too great. (I'd wear this one with simple black heels to keep the attention on the dress!)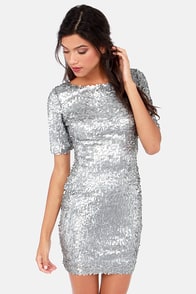 Alternately, I think I'd go for something super-sparkly and fun like this. I actually have a red sequin dress, but it's suuuuper short and a little too tight in the bust. I'd love something silver like this! (I fear that I may be reaching the upper end of the age range where I can get away with wearing this kind of thing!)
Although if I could wear
anything
for a night out, I'd probably go for something like a giant Oscar de la Renta ballgown, or some super sparkly Armani Prive, or an uber-feminine Tadashi Shoji. (Mmm, I need to get back to browsing Fashion Week runway shows!)
Later That Night Look:
This chemise
by Coquette is one of my absolute favorites that I own. The bust part actually offers amazing support, and the whole thing is surprisingly comfortable! I almost wish I could get away with wearing it out of the house. (This is where I remind you that you can save 15% off any lingerie or other fun adult things at edenfantasys.com with the coupon code SP3! I haven't posted about them in ages, but they finally got some new lingerie in, which I'm quite happy about.)
If you wear something awesome for V-Day, be sure to leave me a comment with a link to the Instagram pic or something so I can check it out! I'm totally curious! (Um, unless it falls into the lingerie category. I like you guys and all, but...)
I think I'm going to attempt the pink eye makeup look from my
Pinterest To Do List
post today. If it turns out well, I'll try to post about it tonight or tomorrow! If it's a total fail, I might need to make a few more attempts at it first!
Note: This post contains some affiliate links, which means that if you click the link and make a purchase, I may receive a small commission. Thanks for that - coffee is expensive.