I first mentioned what happened to Mike Brown back on Tuesday, but it has blown up so much since then that I've been wanting to say more. As I said on
Facebook
last night, I'm full of opinions but can't really put them together to form a post yet.
Until I do actually know what I want to say, here's a list of people that I've been following on Twitter that have been amazing about keeping everyone informed about what's going on. I have so much respect for these people for being right there in the middle of everything and for the risks they're taking to make sure that we all have access to this information. Please keep in mind that anything that you see on the news, no matter which network it's on, has gone through some kind of filter of bias. That's why I've been glued to Twitter - when people are sharing everything in real time, there's less time to put any spin on the facts.
We have to start with
Antonio French
, because he is basically my new hero. He's the St. Louis area alderman who was arrested on the night of the tear gas craziness. I am blown away by this man's leadership skills.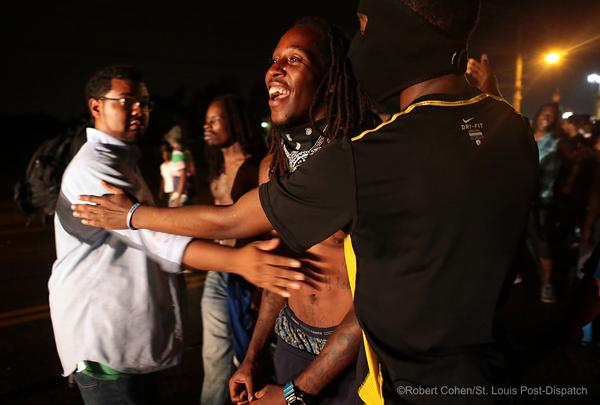 That's Antonio on the left, holding protestors back from taunting police last night. After things settled down, he turned in for the night, but as soon as he heard that things were heating up again he threw clothes back on and raced back to town.
Wesley Lowery
and
Ryan Reilly
are the two journalists (Washington Post and Huff Post, respectively) who were arrested at the Ferguson McDonalds. They've continued to manage to write articles from the midst of the chaos, which is super impressive.
I think this tweet sums up why this live coverage is so important.
Maria Chappelle Nadal
has become somewhat famous for asking the Ferguson police chief "Am I going to get tear gassed again like I was last night? When I was peaceful? ...And I'm your state senator?"
I don't even have words for how much I love this woman. Favorite senator FOREVER. (Seriously, if you haven't seen the video of the police chief cringing when she says "I'm your senator"...
it's amazing
.)
I will confess that I have totally developed a crush on LA Times reporter
Matt Pearce
, mostly due to awesome tweets like this:
I should probably pick something more profound if I'm only using one tweet per person to represent them with, but oh well.
USA Today reporter
Yamiche Alcindor
has been great with updates from the thick of things, too.
Journalist
Amy K. Nelson
stayed on the scene last night long after many others had called it a night. It resulted in this amazing tweet around 5 am. (Couldn't resist including my response.)
There are dozens of others out there reporting live, both journalists and Ferguson residents, but this list is a good place to start if you want to follow along. And I really hope that you do want to, because if this can happen in a Missouri suburb, it can happen where you live next.