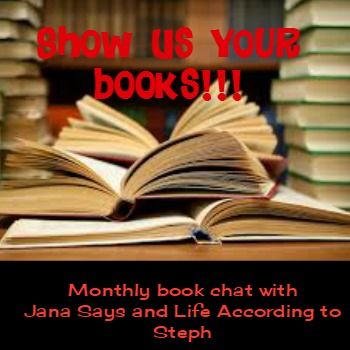 I'm linking up for
Show Us Your Books
! Here's what I've been reading since
last month's post
!
Midnight Crossroad
I received an advance review copy of the 2nd book in this new trilogy by Charlaine Harris (author of the Sookie Stackhouse/True Blood books), so I grabbed this one (the first) from my local library to read before I start that one.
It didn't get off to a great start, to be honest. It took about 40 pages (almost 1/5 of the book) before I was actually interested in the characters or the plot. While I always liked Sookie (at least in the books - TV show Sookie got annoying quickly), I found it a lot harder to relate to main characters like guys named Manfred and Bobo. However, Harris is good at painting supporting characters that are truly intriguing. Like the True Blood books, this series has a bit of the paranormal going on, but the "world" is mostly realistic and believable otherwise. I think the main reason the beginning of the book seemed to drag was that the author's establishment of a new setting and characters was carried out a little clunkily, (Totally a word) rather than feeling effortless. There's a lot of setting up setting and backstory going on, obviously preparing for the other books in the series. Still, once the story got rolling, I definitely got into it and I'm looking forward to the second one,
Day Shift
, although I'm not yet sure if that will be where things really pick up, or sort of bleh - it could really go either way. (The paperback and Kindle versions
Midnight Crossroad
are currently less than 8 bucks on Amazon, btw! Score!)
Poll for you guys - I spent a good chunk of this book wondering if Bobo would be pronounced Bo-Bo or Bob-O. What's your guess?
I Am Malala
I'm sure you've heard abut Malala by now, the teenage girl who was shot in the head by the Taliban, survived, and went on to win a Nobel Peace Prize and write this book. I listened to this as an audiobook, and I'm glad I did, even though Malala only reads the prologue. I don't even know what to say about this, other than to comment on what an inspiring, strong young woman she is.
Stolen Innocence
If you've ever wanted an inside peek at just how nutty things can be inside certain fundamental religious groups... here ya go. Elissa Wall was raised in the FLDS church, a super extreme branch of Mormonism (I may not be describing that correctly - but it is totally separate from the regular LDS church) that still practices polygamy, among other things. In fact, the group believes that a man can't enter the best level of heaven unless he has at least three wives, and his wives and children are considered to be his property. If a husband/father should somehow disappoint the church leaders, his wife and kids can even be assigned to a new man, who is chosen for them without their say.
Soooo, yeah. Not exactly a "Girl power!" kind of group, ya know?
Stolen Innocence shares the author's story of her childhood growing up in this environment, but that "childhood" is cut extremely short when the man that the church considers to be a prophet gets a "message" that she is to be married... at 14. To a man in his early 20s. Who happens to also be her first cousin. Throw in the fact that the kids only go to a school run by the church, where the education is all centered around religion with no regular science or history, and you get a 14 year old girl on her honeymoon who doesn't even know that sex exists. Do I even need to add that things don't go so well?
I was definitely sucked into Elissa's story, although from reviews I've seen on Goodreads, it might not be as well told as books by other women who escaped from the same group. Still, totally worth reading and definitely eye-opening.
Working Stiff
I think you have to be a certain kind of person to enjoy
Working Stiff
. If you're squeamish or easily freaked out, skip this one. If you're fascinated by CSI, medical stuff, forensics, crime scenes, or enjoyed books like Mary Roach's
Stiff: The Curious Lives of Human Cadavers
, you will probably dig this, too. I love medical stuff, anatomy and physiology, the crazy ways that the body works, etc, so I was totally into it. The book covers the two years that the author spent in New York learning to be a medical examiner, which mostly involves doing autopsies on bodies of homicide and suicide victims, or those with otherwise questionable or mysterious deaths. It's totally fascinating, and I learned a lot (It had never actually occurred to me that "autopsy" technically translates to "see for yourself".), and as a person who watches way too much cable news, it gave me some handy background info on things I hear about frequently. (For instance, I remember seeing countless interviews where Dr. Baden talked about tracing the bullet paths during the Michael Brown autopsy, so it was interesting to read about a similar autopsy. OMG, does this make me super weird, or just really, really nerdy?)
It didn't occur to me at the beginning of the book when the author mentioned the time period that she was working in NYC that it included 9/11. The part of the book dealing with the aftermath is hard to read, even so many years later. We have heard countless times about the huge scale of death on that day, but seeing it from this perspective sheds new light on just how awful it was. (For example, while x-raying a man's torso in attempt to find clues to help identify it, they found a woman's hand inside. You can't help but start to wonder how that even happened, but most likely will quickly decide that you'd rather not think about it too much.)
And holy crap, I just realized that I do NOT exactly have cheerful books on this month's list! I'm in the middle of two totally non-depressing books, though, so next month should be a little less weird.
Read anything awesome lately?