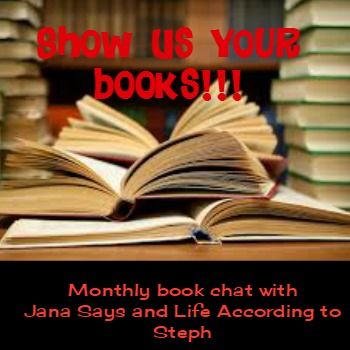 I never got around to finishing up my post for the June "Show Us Your Books" linkup, so this post has almost two months worth of reading squished into one! (There are a few books that I read recently that I haven't had a chance to write about yet, but I'll get to 'em next time!) As usual, you can click on the cover images to be taken straight to their Amazon pages, both for the sake of convenience and 'cause my coffee addiction is expensive so sometimes affiliate links happen.
Also, I just realized that all of the books in my post this month are by women. Woot!
A Fighting Chance
Even though I'm a pretty serious political nerd, I have to admit that before reading
A Fighting Chance
the main thing that I knew about Elizabeth Warren is that pretty much everyone wants her to run for president, but she's all "Nah, guys, I'm cool hanging out in the senate". I feel like I know her much better now, especially since I listened to this as an audiobook, which she read. I'm still impressed that she made economics, not usually my kind of topic, totally interesting. My absolute favorite thing is that while campaigning she picked up the habit of telling little girls that she was running for the Senate "because that's what girls do." Maybe something about that will stick and by the time these girls grow up the Senate won't be 80% men.
Desert Queen
Continuing the "books about awesome women" trend, I also listened to the audiobook of Desert Queen, a biography of Gertrude Bell. In the late 1800's when the concept of an independent woman was still just a gleam in Beyonce's ancestors' eyes, Gertrude spent her time exploring the Middle East, gathering info for the British government, mapping uncharted territory and eventually even drawing the borders for Iraq! I do feel like this book was a rather dry (at times) take on a fascinating woman. Several parts of the book seemed to drag on, and while it was interesting I think it would have benefited in being written in a more compelling fashion that would have kept me wanting to turn pages.
The Doctor Is In
Did you know that Dr. Ruth served as a sniper after WWII? That she lost her parents in the Holocaust? That she's only 4'7"? There is a lot more to the little woman with the accent you've seen on TV talking about sex than you probably know. This book is part biography, part commentary to how to live life with more "joie de vivre", the topic that she ties almost every story in the book back to. I have to admire her energy (even now in her 80s!) and ability to maintain such a positive spirit after going through some horrible things in her youth. Her personality comes through a lot in the writing, which is very conversational in style. I thought it was a fun read, although I've noticed that a lot of reviewers were disappointed because they wanted something different or more. (I recieved a complimentary e-book via NetGalley for an honest review.)
Day Shift - Charlaine Harris
I
read and reviewed
the first book in this trilogy in May, and picked up my review copy of
Day Shift
on NetGalley the next day to continue the story. While the previous book took a long time to get rolling, I found the opposite problem with this one - I was intrigued at the beginning, but my desire to keep turning pages (or, you know, scrolling) fizzled a lot by the last quarter of the book. I attribute that to the fact that most of the "mysteries" in this book were only mysterious to the characters - I imagine most readers will figure them out very early on. Add in the fact that one of the major plots of the story (the hotel) is left unresolved, and it just didn't feel satisfying at the end - there was no "Ohhh, wow!" moment when things come together.
All of that is not to say I didn't enjoy it - I like Harris's writing style in general, and getting to better know some of the smaller characters from the first book was nice. But speaking of that, a few of the author's minor characters from her other books show up in this one. I don't mind cameos that give a nod to fans of previous books, but two moderately important characters in this book came from the True Blood series, which was just... kinda odd. I feel like anyone who hasn't read that series might be confused by their implied backstories. I'd much rather have seen Harris create vibrant new characters to fill those roles instead of taking what felt like a sort of lazy way out. I'm sure I'll read the next one when it comes out, but this one was just average for me. I guess I'd say that if you enjoyed the first book in this series, this is worth picking up to continue the story. If you didn't like Midnight Crossroads much, though, you probably won't like this one any more.
Behind the Clutter
I knew as I was reading this book that it would be a hard one to write a review for, because while I wasn't a fan of the writing style, I did find the book effective at making me look at my possessions in a new light and cut down a lot of clutter. Behind the Clutter has a few things in common with the (currently super popular) "Life Changing Magic of Tidying Up" in that both books want you to hold your items and think about how they make you feel (and both authors are Japanese, coincidentally). However, while just asking if an object brings me joy, as "Life Changing..." instructs, this book asks you to think about if the object fits who you are as a person right now, if it truly serves a purpose, and what the real reason you're holding on to it is. There's a lot less of the technical "fold your clothes like this and organize your shelves like this" and a lot more of the "why do I feel the need to hang onto this?"
I received a complimentary review copy via NetGalley, and oh man do I hope that the book went through another round of editing before the final version, because at least 1/3 needed to be cut out. There's a LOT of extraneous detail and stream-of-consciousness rambling. For instance, sure, it might be helpful for the reader to know that you carry a computer bag, a gym bag, a yoga bag, a current projects bag, and a "self care" bag in your car, but do we really need multiple pages detailing every single item in each of those bags, as well as what brand and color each bag is and where you got it? Probably not.
That said, I have found the ideas that fuel the book to be helpful. For example, I figured out that part of why I'm so good at starting projects but not finishing them is that as long as a project is incomplete, it still has the potential to turn out great/prefect. I've found letting go of things that I don't really need to be a lot easier than ever before. I'd recommend this if you're interested in shifting the way you think about the things you own, but with the note that you might have to sift through a lot of sugary fluff to find the good stuff. (Just a note - I still have about 7% of this book left, but I figured I'm far enough in that my opinions aren't likely to change by the end. If they do, I'll update ya up!)
Read anything awesome lately?