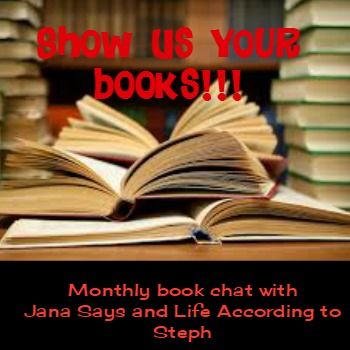 It's that time of the month again! No, not THAT time. Show Us Your Books Time! Way more fun!
As always, you can click the book cover image to go straight to its Amazon page and learn more, partly for convenience and partly because cat food is like, really expensive you guys, and every affiliate link penny helps. #JustSayin.
#Girlboss
I've heard so much about this book that I finally had to give in and pick it up! I was vaguely aware of the brand "Nasty Gal" before beginning the book, but I really couldn't have told you if they sold makeup or clothes or what. The original business sounds pretty great - Sophia got started selling thrifted vintage treasures on eBay to surprising success. It was one of those magical times when the right product hits at the right time (this is when ebay stores were
huuuuge
) and it really took off. At some point she transitioned to... less awesome stuff? For lack of a better way of putting it? I pulled up the site to check it out and there's still some unique vintage wstuff, but it's now mostly sort of... meh.
But back to the actual book! I'd heard so many great things, but ended up being kind of disappointed. It doesn't quite see to know what it wants to be - she spends a lot of time talking about how great it is to start your own business and be your own boss... and then offers advice on how to do well at interviews. If you're aimed at entrepreneurs, as the hashtagged caps lock title would imply, why are you giving advice on how to do well at a regular office? It would have been more interesting for her to focus on the "be your own boss" aspect, since there are a bazillion regular career books out there, but strangely enough she offers hardly any good info on starting and running a business other than "work really hard."
The overreaching impression of the book is that she thinks she became a multi-millionaire simply because she worked really hard. That's more than a little annoying because it ignores both the countless number of people who start their own businesses and work with equal drive and passion without ever getting much success, as well as the idea that a lot of her success was more of a right place/right time/right factors already in place type of scenario - that is she already knew enough about fashion to be able to style the looks, had tried modeling as a kid, she just happened to have pro photographer friend to shoot for her, it was just the right time when listing vintage clothes on ebay was huge, and she happened to live in a part of the country where you can actually find an abundance of incredible vintage at thrift shops. (Sorry, but the likelihood of finding more than maybe ten awesome money-making items a month drops to practically zero if you're living in, say, the Midwest, no matter how much time you devote to thrift shop stalking!)
Its also weird to have a book written by the owner of a site that sells $1,250 beaded leather sandals tell me that "money looks better in the bank thank on your feet". Almost as confusing is that after spending a large chunk of the book going on about how Nasty Gal is the best company everrrr, she has since stepped down as CEO after laying off 10% of the staff last summer. Okaaaay?
Not That Kind of Girl
Okay, so my picks this month aren't exactly unique and esoteric. C'est la vie.

I've only seen season 1 of Girls so far, but I think Lena Dunham is interesting. It seems that she's one of those people that people other worship or detest, but I fall somewhere in between, much as I do with this book. Yes, much like Dunham's character on Girls, there's a lot of privileged upper middle class upbringing firs world problems. That said, Lena is a good storyteller and this is an interesting read, just don't expect life-changing. There were some great, well-written essays and a handful that were more suited to say, an average Tuesday blog post than a book.

And just because I'm guessing it will come up - I spent a lot of the book wondering when the infamous incident with her sister would come up, only to realize "Oh. That thing a few chapters ago was it. Huh." Your reaction, of course, may vary depending on your life experiences and such.





10 % Happier
The author of this book got into meditation after suffering a panic attack on live tv in front of millions of viewers. As a pro at panic attacks, I totally know what it's like to try to hurry out of a grocery store hoping that nobody notices that you can't breathe and are totally freaking out, or to try to hurry to wrap up an interaction with a guest because you're sure you might pass out any second, so I can't even imagine it happening while you're on live TV.
This falls somewhere between self help and memoir, probably leaning a little more towards the latter. Unlike most books on this subject, Dan didn't aim for
omg life changing
with his mediation practice. He just wanted things to be kinda better. 10% happier might not sound like much, but it's a noticeable change. It's a good introduction to the benefits of meditation in a totally non-woo-woo way. In other words, it puts things in normal everyday person terms and experience, not the super new-agey or serious tone you see in a lot of books on the subject.
I actually just discovered while grabbing the cover image of this book from Amazon that there's
a 34 page "sequel"
that you can get for Kindle for freee! The reviews are super mixed, mostly saying that it repeats a lot of info from the original, so it sounds like it might be worth reading if you want an idea of what 10% Happier is like, just don't expect awesomeness. (I just had it laser-beamed over to my Kindle, so I'll let you know!)
Annnnd, as always seems to happen, I hae totally run out of time to finish up my reviews before I need to post for the linkup! You would think that after 16 years I'd have the hang of this whole "blogging" thing, but apparently not! Bummer, since I still have at least 4 more books that I read recently to write about. Thankfully, I have a mini vacation coming up this weekend, so maybe I can finally catch up on both reading and reviewing! YAY!
Read anything awesome lately?